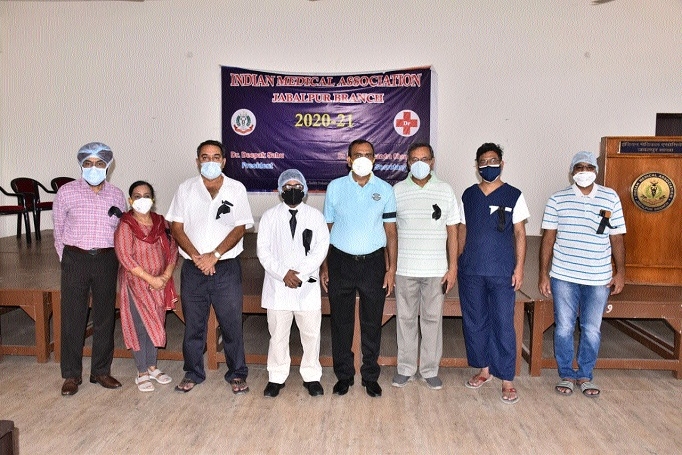 IMA office-bearers sporting black bands to observe the All India Protest Day on Tuesday.
Staff Reporter :
Stung with the allegedly unethical and irresponsible statement by Yoga Guru Baba Ramdev, the Indian Medical Association (IMA) and its resident doctors' wing observed All India Protest Day on Tuesday. The doctors tied black-bands to register objections against Baba Ramdev's statement. Dr Deepak Sahu, President Jabalpur branch of IMA said that despite the pain and agony of loss of modern medicine, amidst limited resources, infrastructure and manpower, majority of the doctors are working in the frontline with a sense of compassion on the call of Prime Minister, Narendra Modi. But keeping all these sacrifices aside, Baba Ramdev has raised doubt on the existence of Allopathic therapy.
Its very unfortunate and an insult to more than 3 lakh doctors associated with modern medical therapy across the country. Criticizing Ramdev's statement, the IMA office-bearers said that even in the ongoing war-like setting, it becomes a passion for people with malicious opportunities attitude to hit from the back, the medical warriors with their selfish malevolent to boost up their unscrupulous, unprincipled, deceitful and unpatriotic business fortune.
They pretend to throw mud on Modern Allopathic Medicine but tine and again benefited through back door in modern medicine hospitals when they get ailed. Secretary, Dr. Brijesh Choudhary said that taking people for ransom, selling them weird ideology, and winning business by defaming scientific medicine are unpardonable offenses. Such unlearned statements are a threat to the literate society and poor people as well who are falling prey to him. Others who registered their protest included Dr. Arvind Jain, Dr. Rakesh Pathak, Dr. Sanjeev Barkade, Dr. Harjeet Bansal, Dr. Amardeep Bansal and others.