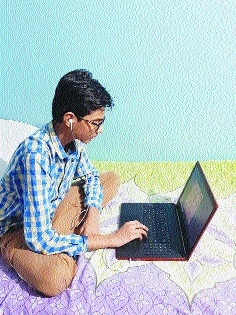 Sports Reporter :
SIDDHANT Gawai emerged champion in first of the series of Late Umesh Panbude Benefit On-Line Blitz Chess Championships that was conducted by Nagpur District Chess Association. In all 111 players from different cities participated in the tournament that was was held on lichess.org. At the conclusion of the tournament which consisted of total 11 rounds, Shiva Iyer earned the top position followed by Gawai and Harsh Nachankar on second and third positions respectively. But Lichess, the online platform where the event was being played, found that top placed Iyer and Nachankar violated norms by some foul play and hence blocked their IDs.
Since NDCA has organised the tournament on Lichess platform, it has to abide by their norms and declared second position holder Gawai as winner of the tournament. The rest of the positions were upgraded accordingly. NDCA is yet to decide on the action to be taken against these two players and the same will be decided before the next on-line tournament. Gawai donated his entire prize money of Rs 4000 to Panbude family. Meanwhile, Iyer has denied any wrongdoing. "I hereby challenge the NDCA that let them appoint a panel of arbiters (not from Nagpur) and check all my games played in this tournament or any other online tournament. If they prove that I was indulging in any type of malpractice, I will give up playing chess in future," Shiva stated in a press release.
NDCA announced that it will not conduct any on-line tournament in the month of June as there are various age group tournaments of State and national level from June 3 to July 3. Top Ten (Open): Siddhant Gawai, Sparsh Khandelwal, Aditya Bartakke, Priyanshu Patil, Amardeep Bartakke, Vaibhav Raut, Prerak Darvekar, Nilay Kulkarni, Dishank Bajaj, Suhan Deshpande. Top Women: Shraddha Bajaj, Aastha Turankar, Aishita Chhabda, Himani Jethwani, Aparnita Jagtap. Top U-15: Aditya Bodkhe, Saksham Singh, Krupal Wanjari, Ayush Ramteke. Top U-11: V Raghav, Vivaan Saraogi, Jay Sawalakhe, Parathamesh Sherla.
Mah State selection trials to be held online MAHARASHTRA Chess Association will be conducting selection trials for boys and girls in the Under-18, 16, 14, 12 and 10 online from June 3, informs an MCA press release. Due to COVID, all the age groups and even open chess tournaments were not held last year. It was expected that this year, the tournament would be held off-line but considering the prevailing situation, International Chess Federation has decided to conduct various events online in July. The Indian Chess Federation will be conducting all the selection trials from June 10. All the events will be conducted on Swiss League format. Interested players may visit the following sites for further details: www.chezzcircle.com/event and https://www.tornelo.com.