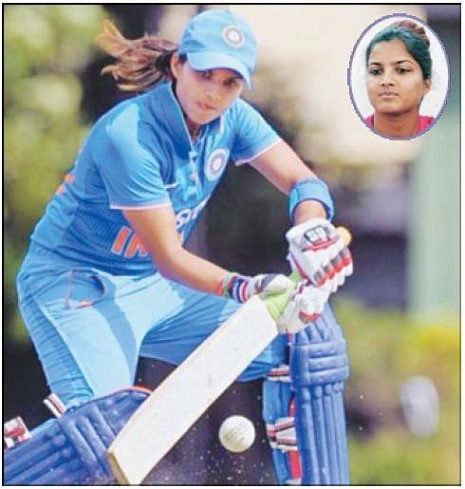 By Anupam Soni :
ASK any international cricketer about the real form of cricket and more often than not, one would get to hear "Tests". City's India player Mona Meshram is no different. Mona, who has been part of the Indian One-Day and Twenty20 teams and played the Women's Cricket World Cup final at Lords in 2017, missed the bus to 'Mecca of Cricket' this time though. And the bigger loss is missing a Test match that India will be playing after a long gap of seven years. For the records, Indian women, who played their first Test match in 1976 against the West Indies, played their last Test in November 2014 against the visiting South African team in Mysore. Mithali Raj-led India are set to play two Test matches this year including a day-night Test against Australia.
On Wednesday, when the Indian men and women's teams leave Indian shores for stints in England on a chartered flight, Mona will not be there. Mona was part of the Railways team that lifted Women's Senior One-Day Trophy in Rajkot on April 4, 2021 for 12th title in 14 editions. She has had a good outing with the willow contributing to the team's success with some important knocks. "Frankly speaking, my performance in Senior One-Day Trophy was satisfactory but everybody has expectations. I also wanted to make it to the national squad. Any international player wants to play Test because that is real cricket. It was not played for a long time and when the opportunity came, I am not in the team. But all is not lost, 'next time ke liye achche se prepare karenge'," said Mona while interacting with 'The Hitavada' on Tuesday. "Railways are a champion team. We have been winning continuously and that's why the cream of Indian cricket comes from Railways. Moreover, Railways is the biggest recruiter of women cricketers and that's why most of the Indian members (seven-eight) are from our team," she proudly added.
The prevailing COVID situation has done a lot of harm to the sport. "The pandemic has pushed us two years back. We (women) have only two formats to play and last year only one was held. In the BCCI schedule for the next season that starts in November, we hope to get both the forms to play. Let's hope for the best," said Mona, who is employed in Central Railway's DRM Office. Mona expects Indian team to do well in England, particularly in Tests. "India are playing international cricket after quite some time and the players would be raring to go. The additional motivation is that we are playing Test after a long time and the girls are excited about it. I think India will do well there. We have been a good Test playing nation.
Our players are technically well-equipped and that will help them in the longer format," said Mona. On her routine during the lockdown, Mona said, "Everything is closed and we cannot practise outside. The only option left to us is to work-out at home and keep ourselves fit. 'Abhi jitna fit rakh sakenge apne aap ko, game main wapas aane main utne time kam lagenga'," she asserted. Mona's mantra for general public and sportspersons is to stay healthy during the pandemic — the third wave of which is likely to hit soon. "We have lost many close ones to the coronavirus and nothing can compensate for that. Keeping fit and eating healthy is most important during these tough times. One must also do some exercise and at least continue regular walking," Mona signed off.