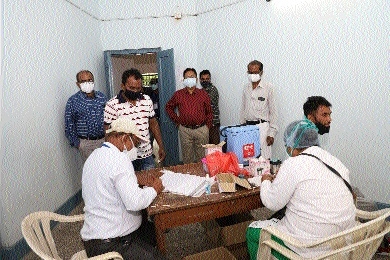 MPPMCL CGM, F K Meshram inspecting the COVID-19 vaccination centre.
Staff Reporter ;
Chief General Manager of the Madhya Pradesh Power Management Company, Firoz Kumar Meshram conducted inspection of Vaccination Centre at Kalyan Bhawan to review the arrangements for residents during COVID-19 vaccination. During the inspection, it was informed that more than 10,000 residents of 18 to 44 years of age were administered vaccine. Total 300 vaccination is being carried out every day at the centre. CGM, Meshram was accompanied by Chief Medical Officer, Dr. SK Verma, Senior Medical Officer, Dr. Sameer Jain and DGM, Alok Shrivastava. Vaccination centre was started at MP Power Management Company's Hospital from January 23 and centre at Kalyan Bhawan was started on May 1.
Vaccination of above 18-years was started at Kalyan Bhawan, on May 23. Till May 31, total 10,368 persons were administered COVID Shield vaccine include 8,606 persons of above 45-years of age and 1,662 persons of above 18 years of age. CGM, Firoz Kumar Meshram informed that in case of not presence of 300 persons who registered their online booking for vaccine, offline vaccination of other persons is being carried out. Vaccination of online booked slots is being carried out every day till 4:30 pm and thereafter, vaccination is being carried out on first come first serve basis. Vaccination process is being fluently operated with valuable contribution from Central Sports and Arts Council's Office in-charge, Jaivant Vaman Kharpate, sports in-charges and senior players.