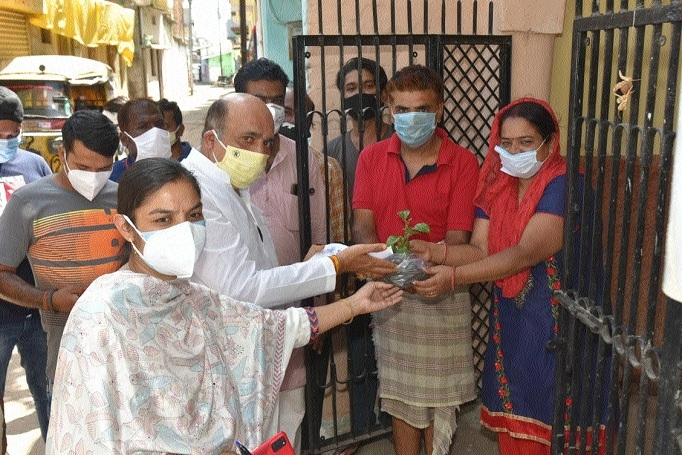 MLA Ashok Rohani inviting residents for vaccination through door-to-door contact campaign.
Staff Reporter :
MLA, Cantonment, Ashok Rohani conducted door-to-door public contact drive to encourage the residents of vaccination and invited them at vaccination camp through presenting plant sapling, Haldi and Chawal as good omen, on Sunday. During the campaign, MLA, Ashok Rohani said that on the call of Prime Minister of India, Narendra Modi and Chief Minister of Madhya Pradesh, Shivraj Singh Chouhan, a grand Tikaran Mahaabhiyan has been started throughout the country for protection of residents from COVID-19 pandemic, from June 21, 2021. The nationwide campaign will be continued till June 30, 2021 for saving precious lives of citizens.
Extending appeal towards residents for ensuring their COVID-19 vaccination, MLA Rohani invited them with Haldi and Chawal and presented them saplings for their participation in plantation drive. MLA Rohani along with Mandal President, Damodar Soni, Kalpana Tamrakar, Vidyasagar, Chetan Lahoria, Allu Sen, VIni Raman Singh, Anurag Dahiya and party workers conducted a rigorous door-do-door public contact drive for ensuring cent percent COVID-19 vaccination in Cantt assembly constituency.