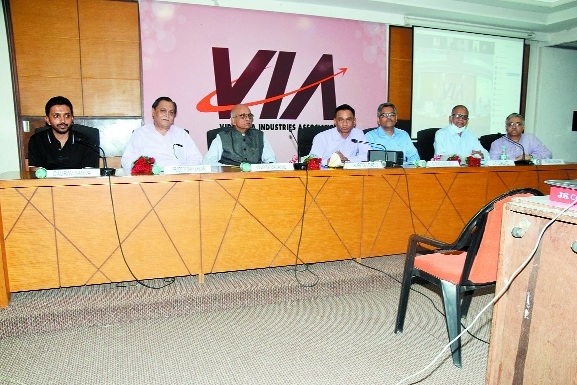 Gaurav Sarda, Pradeep Maheshwari, Vinayak Marathe, Suresh Rathi, Shivkumar Rao, J F Salve and Pankaj Bakshi.
Business Bureau :
Former Senior Vice President of Reliance Industries Ltd and expert in Refinery and Petro Chemicals Vinayak Marathe said new refinery in Vidarbha region would need USD 1.5 to 2.0 billion additional capex for laying 900 km long pipeline for crude oil. However, he said, the additional cost would be compensated in next couple of years. "Besides, there will be many other advantages in setting up new refinery in the region," he said on Saturday while speaking at the session organised here by the Vidarbha Industries Association (VIA). He further said that it is not economical to revamp old refineries with new technology. Hence the new large refineries are must for India to control the fuel prices and remain competitive in markets of petrochemicals.
He said configuration of proposed refinery in Vidarbha will ensure that it remains profitable for next 40 years. Pradeep Maheshwari, Refinery Project Director & VED Council Member, who has taken all the initiative for development of this project for Vidarbha, in his presentation on "Transformation of Vidarbha and Central India Region" aid refinery and petrochemical complex is the right step to ensure many industrial opportunities for new investments in the region. "Such large investments will positively support each and every business. This will recharge economy and have positive social impact like creation of direct jobs, indirect jobs, attracting ancillary units, revival of sick units, boost regional tourism, optimize resource utilization and demand for agri goods. He also stressed on speedy clearances from the State and Central Governments and suitable incentives for the proposed project.
He further said that the most important strengths of Vidarbha are four major ports on equal distance to import and export benefits. Shivkumar Rao, President - VED Council said we are hopeful about getting permission from the Government for conducting the techno-economic feasibility study very soon. We are going to meet Union Minister for Petroleum & Natural Gas and Steel, Dharmendra Pradhan in next 8 to 10 days." J F Salve, Advisor of Solar Group of Industries, Nagpur also shared his perspectives on petroleum refinery. Earlier, Gaurav Sarda, Secretary-VIA gave an opening remark. Suresh Rathi, President – VIA, welcomed the guests. Pankaj Bakshi, Convener – VIA summed up the session and proposed a formal vote of thanks. Prominently present were Patron and Founder of VIA - Hargovind Bajaj; Prafull Doshi, Past President – VIA; Girdhari Mantri, Chairman – CSR Forum; Girish Deodhar, Chairman – MSME Forum; Ashit Sinha, former VP of VIA; Pradeep Khandelwal, President – BMA; Madhusudan Rungtha, President – MIDC Industries Association Chandrapur, Naresh Jakhotia, Treasurer – VIA; Pankaj Sarda, President of MIDC Industries Association Bhandara; Manisha Bawankar, Chairperson – VIA LEW; Members and others attended the session.