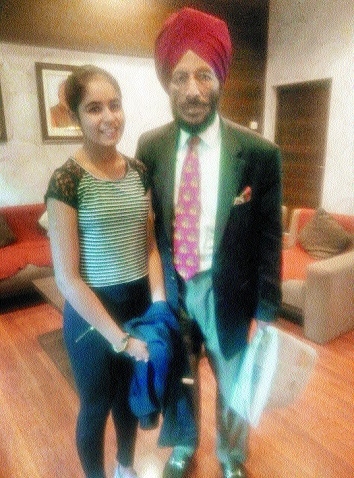 Sports Reporter :
CITY'S top doubles badminton player Ritika Thaker recalled her meeting with the legendary 'Flying Sikh' Milkha Singh four years ago. The bubbly player met Milkha Singh at Nagpur airport. "I had the opportunity of a life-time about four years ago to meet great Milkha Singh the 'Flying Sikh' as he was fondly referred to. The legend who passed away on June 18 due to COVID complications was a charismatic personality. His gentle mannerisms, polite speech and his words will remain a motivation for me.
"I was at the Nagpur airport when I saw Milkha sir at the airport, sitting calmly and reading a newspaper, my excitement knew no bounds. I was nervous as to how should I approach this world renowned, pride of our nation athlete," said Ritika. She calmed herself down and approached the legend. "I told myself, now or never. Not everybody gets a chance to meet Milkha Singh one on one. I approached him, introduced myself as a budding badminton player who strives for a podium finish at the 2024 Olympics. His eyes lit up. I could read the love for his country in his eyes which made me feel all the more proud of being a sportsperson for India.
He told me, 'push for your goals, if you lose that pain will remain with you but don't let it cripple you. Be strong mentally and physically'." A picture with him made Ritika's day. "I requested him for a photograph and he agreed for the same. That memory, I am proud of. I feel I am blessed with the brief interaction with the 'Flying Sikh' that has further motivated me to become an achiever. I pay my sincere homage to this great athlete who rose from ashes and achieved this stature. A legend always lives," Ritika concluded.