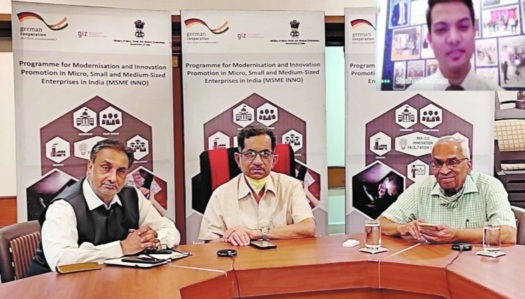 Dr Ravindra Aher, C G Shegaonkar and S M Patwardhan at the webinar. (Inset pic) Shishant Mahato.
Business Bureau :
MIDC Industries Association (MIA) Hingna and GIZ India under the Digital Marketing Webinar Series which has been designed focusing on businesses and MSMEs to help them leverage the online medium recently conducted the second webinar on the topic 'Growing your business brand through YouTube'. The expert speaker for the session was Shishant Mahato, professional digital marketing trainer and founder of 'Digital Magnet'. C G Shegaonkar, President of MIA Hingna, initiated the event by welcoming the speaker and all the live participants of the webinar. He further shared the overview of the webinar. Dr Ravindra Aher from GIZ India introduced the online participants to the speaker Shishant Mahato and shared his professional background followed by general remarks.
S M Patwardhan, Vice-President of MIA Hingna was also present. Shishant Mahato initiated his presentation by sharing some interesting statistics about the YouTube medium and how businesses could tap into this ever-growing medium for brand building and profits. He showed some examples based on different keywords and told the participants that, the first step to initiate and grow ones YouTube channel is to find untapped video keywords depending on the business using sources like Google Trends, search results and other keyword research tools. He said that this will immensely help businesses to find out what's trending and which kind of videos people are looking for in YouTube. The next step is to create videos optimised for 'Watch Time' which means making videos as per the ideal watch time of the online audience and videos which could generate more views and engagements.
The third step is to optimise the videos taking cue from the trending videos in the the sector, including keywords in the description, tags, titles and hashtags which would help the videos to reach out to a larger audience and ultimately drive traffic to ones channel. "Using video thumbnails that stands out also immensely helps the videos to reach maximum traction. Creating and promoting your channel's optimised video playlist as per the interest of the audience, is also an integral part of growing your YouTube channel," he added. In this entire process, the apps that will help reach, engage and convert the target audience; ranking ones videos on Google search and earning money through the channel were also discussed in the webinar. Many queries by the participants related to this topic were answered by the speaker. He also gave some useful tips to grow their business brand through YouTube. Dr Aher also thanked the speaker for presentation. which will definitely help businesses leverage the medium of YouTube to showcase their products and services.