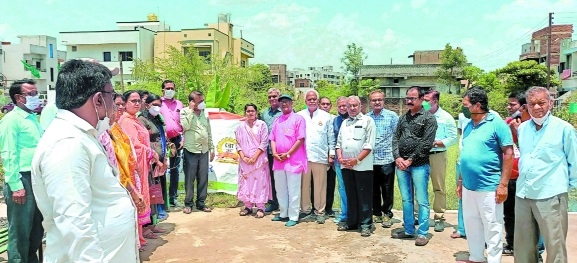 Business Bureau :
Highlighting the importance of planting trees and saving the environment, B C Bhartia, National President of Confederation of All India Traders, New Delhi (CAIT) said, "In order to protect environment, it is necessary that we give back oxygen that we inhale from atmosphere. This can be done when each house plants a tree." He was speaking at the 'Oxy Bharat' nation-wide campaign going on at Bhilgaon where tree plantation is being carried out in a big way. The tree plantation was carried out under guidance of Sheetal Patil, Sarpanch of Bhilgaon. She assured to provide tree guards to protect the trees and will also make arrangements for watering and safety of the trees in the village. Chairman Team CAIT Nagpur Gopal Agrawal welcomed the guest.
He said that Team CAIT Nagpur will give trees to the Grampanchayat. He also that the steam vaporiser will be provided to staff of the Grampanchayat. Tree plantation at Bhilgaon was carried out at the ancient Mata Mandir, Radhakrishna Mandir and playground of the colony. At Mata Mandir, Neeta Tiwari, Deo Mishra and Devilal Soni planted the tress under guidance of Kishor Dharashivkar. Sarpanch Sheetal Patil, Deepa Pachori and Jyoti Gupta conducted the tree plantation at Radhakrishna Mandir under guidance of Jyoti Awasthi.
In the open ground area, mass tree plantation was carried out under guidance of Rajkumar Gupta and Raj Pachori. Mahendra Jain, Richa Thagawe, Aarti Yadav, Madhusudan Trivedi, Gangaprasad Baghel, Gajanan Aturkar, Sushila Baghel, Harish Pal, Pravin Bawankule and Sanjay Dhandhare planted trees. Sapana Talraja and Jayshree Gupta explained the importance of planting trees and protecting the environment. Govind Patel proposed the vote of thanks, informed Nikhilesh Thakar, Organising Secretary.