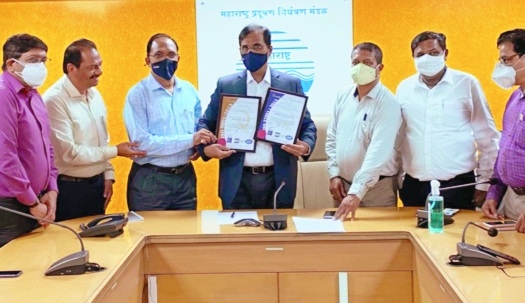 MPCB Member Secretary Ashok Shingare receiving the ISO 9000 and ISO 27001 Certification along with other officers.
Business Bureau :
As a regulatory body, Maharashtra Pollution Control Board offers services to industries concerned with consent related matters and measures taken to abate various types of pollution including biological and e-waste. As the services have to be delivered consistently, the board has to maintain a standard of quality. In view of this the office operations need to be streamlined. This commitment has made the board to get certified for ISO 9000:2015 which concerns quality management. With this certification there will be transparency in the board's workflow as well as it will maintain confidentiality and non-repudiation. The work culture of the boards offices will thus be optimized. In the age of Information Technology, Maharashtra Pollution Control Board is at the forefront.
It has integrated all its offices by implementing the Integrated Management Information System (IMIS). For this, the board has set up its own state-of-the-art Data Center to handle its work processes. ISO 27001 has been implemented to streamline all the processes of Data Centre. Since it is necessary to maintain the security and confidentiality of information. This is very important since the data belongs to Government body. Specific norms need to be maintained in the Data Centre, so that measures taken area of maintenance of optimum quality management of information and its security.
All physical and electronic measures are taken to secure data so that there is no leakage of information. With ISO 27001 Certification the Data Centre has now become more robust and secure guarding all information processes. For this certification under the guidance of the board Chairman Sudhir Shrivastava, Member Secretary Ashok Shingare, Asst. Secretary Pundlik Mirashe and Statistical officer Dinesh Sonawane in association with all officers and employees of the board have taken lot of efforts.