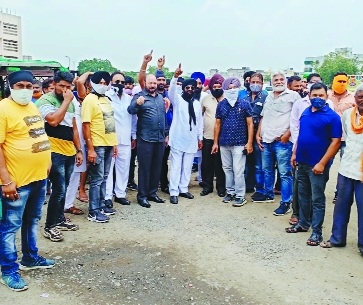 Business Bureau :
As a part of the nationwide agitation of the truckers against the rising prices of fuel, the Nagpur Truckers Unity on Monday observed 'black day'. The transporters raised slogans against the Government here at Teka Naka near Lal Godown. The demonstration was held in Nagpur under the leadership of Kuku Marwaha, President of the Nagpur Truckers Unity. On the occasion, Marwaha said that there is a huge mismatch in the prices of crude oil in the international market and diesel and petrol in the country. He said that the transporters of the country are struggling on various fronts. "First, the decision of the Union Government to impose demonetisation gave a serious blow to the sector. Then came the Goods and Service Tax (GST) which further deteriorated the condition of the transporters. After that, the restrictions brought into control coronavirus caused irreversible loss.
The lockdown led to weak demand and consumption due to which demand for hiring trucks is not the same as it was before. And now the rising prices of fuel are giving sleepless nights to the transporters," he added. Highlighting the poor financial condition of the truckers, the Nagpur Truckers Unity urged the Government to bring down the fuel prices and also announce a relief package for them. The transporters demanded that the Central and State Governments should jointly reduce the inflated tax rates on diesel and petrol. Marwaha said that the sector is reeling under heavy pressure and many transporters are on the verge of collapse.
"They need a helping hand from the Government so that they can survive in this difficult time," he said. Rajinder Singh Saini - General Secretary; Jaswant Sharma, Pappu Gotra, Gurdayal Singh Padda, Tonny Jaggi, Pritam Singh Saini, Malkit Singh Bal, Rajendra Manhas, Surendra Mohan Saini, Avtar Singh, Gullu Dhillan, Prashant Dixit and others were also present.