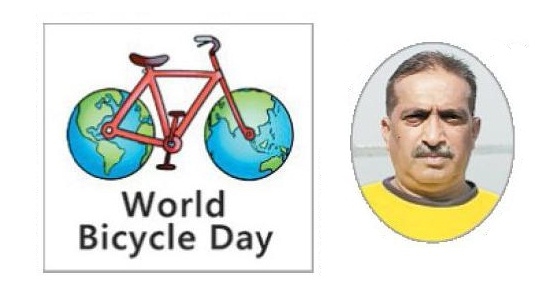 Sports Reporter :
WORLD Bicycle Day is celebrated on June 3 every year in recognition of bicycle's unique longevity and versatility, remarked Sanjay Batwe. Batwe, a member of Tiger Group of Adventure, was speaking on the benefits of cycling on eve of the World Bicycle Day. "Cycling, that is in use for centuries, has many advantages. It is good for physical and mental health. It is good for environment and the economy.
Cycling is a wonderful workout and keeps you active. Cycling helps to shape a healthy lifestyle. If one wants to be fit and healthy, one should be physically active. It increase muscle strength, flexibility, increase cardiovascular fitness and at the same time decreases stress level. It improves the mobility of joints, posture of one's body and co-ordination among various body parts," said Batwe, who is also an NIS certified swimming coach. "Regular cycling strengthens bones. It helps in decreasing the body fat levels to a large extent. It helps in prevention and later during management of diseases. It helps in reducing anxiety and depressions. It is very good exercise for obese people as it weight under control. Moreover, it is a simple, affordable, reliable, clean and environmentally fit sustainable means of transport," Batwe added. Batwe also shared history of founding of the World Bicycle Day.
"In April 2018, the United Nations General Assembly declared June 3 as World Bicycle Day. Professor Leszek Sivilski, a Polish social scientist working in the United State, led a grassroots campaign to promote a United Nation Revelation for World Bicycle Day eventually gaining support of 57 countries. The original United Nations blue and white World Bicycle Day logo was designed by Isaac and the accompanying animation was done by Professor John Swanson," he informed. "Bicycle is a symbol of human progress and advancement. It promotes tolerance, mutual understanding and respect," Batwe concluded.