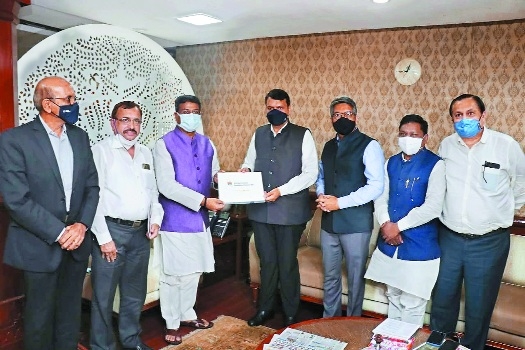 (From left) Vinayak Marathe, Navin Malewar, Union Minister Dharmendra Pradhan, former CM Devendra Fadnavis, Shivkumar Rao, Ashok Nete and Pradeep Maheshwari.
Business Bureau :
Union Petroleum Minister Dharmendra Pradhan on Tuesday announced feasibility study for petrochemical complex in Vidarbha region. He announced it soon after meeting with a delegation from Nagpur led by former Maharashtra Chief Minister Devendra Fadnavis; Ashok Nete, Member of Lok Sabha - Gadchiroli; Shivkumar Rao, President, Vidarbha Economic Development Council (VED) and others. After the meeting, Pradhan tweeted, "Always a pleasure meeting former CM and LoP in the Maharashtra Assembly Shri @Dev_Fadnavis.
We had discussions on establishing a petrochemical-cum-refinery complex in the Vidarbha region of Maharashtra to further create opportunities for employment and economic growth in the state." Earleir, Pradhan was apprised of the need for a petrochemical complex in Vidarbha. Pradhan agreed to initiate a techno-economic feasibility study for a pertrochemical complex in Vidarbha, a very long-standing demand of VED for the growth of the region. Fadnavis announced that from the detailed presentation prepared by VED, followed by the discussions that took place, Pradhan accepted the idea of the petrochemical complex very positively and directed that a techno-economic feasibility study be initiated for a pertrochemical complex. Fadnavis stated that according to the study made by VED, the Union Minister felt that it would be feasible and that it was his expectation that the new petrochemical complex would come up in Vidarbha, bringing with it benefits for many industries.
This would go a long way in the development of the region and be a big leap in the industrialisation of Vidarbha. VED is expressed gratitude towards Devendra Fadnavis for leading the delegation and helping to take this project forward with the Union Minister, stressing the need for this growth engine. Pradeep Maheshwari, Project Director, Navin Malewar, Treasurer and Advisor to VED, and Vinayak Marathe, Petrochemical Expert, were also present on the occasion. In the meanwhile, former Katol-MLA Ashish Deshmukh expressed satisfaction over the development and said that during the State Assembly session in 2018, the then CM Devendra Fadnavis had assured him to put efforts for setting up the project in the region. Deshmukh had raised the issue in the Assembly.