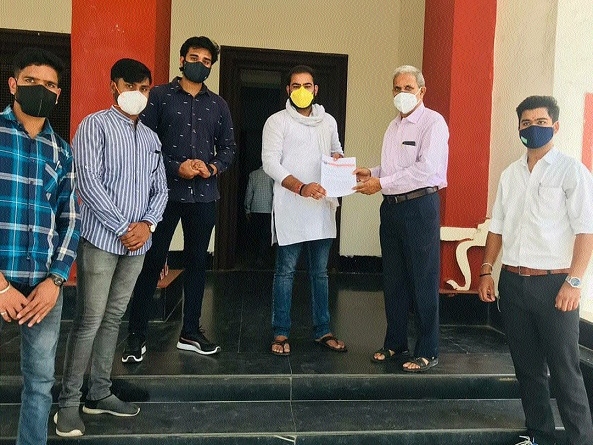 ABVP members submit memorandum to the Registrar.
Staff Reporter ;
Office-bearers of the Akhil Bharatiya Vidyarthi Parishad (ABVP) Jabalpur City have handed over a memorandum addressed to the Vice-Chancellor, Rani Durgavati University to the Registrar regarding fees being recovered by the university and colleges from the students. Jabalpur City Secretary and State Joint Secretary, ABVP, Sarvam Singh Rathore informed that in the ongoing COVID pandemic when all the universities and colleges are closed to restrain COVID-19 infection across the State, a large number of people have lost their jobs and facing financial crunch. The lockdown further affected their financial resources and posed further challenges in front of them to earn livelihood. In such harsh testing situation, the university and colleges pressurize the students to deposit their academic and examination fee along with fee for other facilities including library, sports and cultural activities.
Shockingly such activities were neither directly conducted nor the students used these facilities directly in the university or it's affiliated colleges the entire last year due to COVID-19 pandemic. Hence, the act of colleges and university to recover fee of those facilities which were remained out of the students' approach the whole year, is not justified. Hence, the ABVP demanded the university administration not to demand any fee except academic and partial examination fee from the students. Simultaneously, the fee if submitted by the students should either be reimbursed to them or adjust as per facilities to be availed by them in future.
The ABVP members also demanded to waive off the examination fee of the students who are unable to deposit the same following their weak financial condition. The ABVP members who were present while submitted memorandum included City Organising Secretary, Lokesh Sahu, Makhan Sharma, Shashank Sharma, Pavitra Jain, Amit Upadhayay and others.