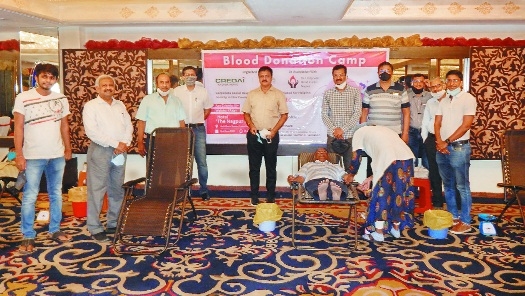 Business Bureau :
Considering the current pandemic situation, the CREDAI Nagpur Metro in association with Hedgewar Blood Bank, conducted a blood donation camp on Wednesday. The event held at Hotel The Nagpur Ashok, Nagpur was part of the Corporate Social Responsibility (CSR) initiative of the CREDAI Nagpur Metro. Special arrangements were made for social distancing, mask and sanitization during the camp. The blood donation camp was inaugurated by Vijay Dargan, President of CREDAI Nagpur Metro; Gaurav Agarwala, Secretary; Mahesh Sadhwani, IPP and Vice President CREDAI Maharashtra; Sanjay Gupta, MD of Hotel The Nagpur Ashok and Convener of CSR Committee of CREDAI Nagpur Metro; Chardrashekhar Khune, Co Convener of CSR Committee and Secretary; Ashok Patki of Dr Hedgewar Blood Bank and other members. Prashant Sarode, Past President CREDAI Maharashtra, also visited the camp.
On the occasion, Vijay Dargan said that the there is need for more such camps so that patients in need of blood could get it. "In the backdrop of the pandemic of COVID-19, large number of people are in need of blood and thus we should come forward and donate blood in the larger interest of the society," he said. About 42 donors have registered for the blood donation, out of which 34 were able to donate blood as the donors went through a series of medical checkup before donating blood.
The donors were given refreshments by the Hotel The Nagpur Ashok and a certificate of appreciation by Dr Hedgewar Blood Bank for this service to humanity. The camp was successfully organised with the help of the CSR Committee members Ashok Chandak, Ashish Londhe, Vinod Kubde and others. The organisers appreciated the efforts and support of MD of Hotel The Nagpur Ashok and Convener of CSR Committee Sanjay Gupta.