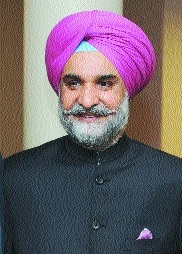 By Lalit K Jha
INDIA will be a "significant recipient" of US vaccines, the country's envoy here has said as President Joe Biden announced details of his administration's decision to share 2.5 crore COVID-19 shots to countries across the globe that have been facing vaccine shortages.
Biden on Thursday said that the US will allocate 75 per cent - nearly 1.9 crore of the first tranche of 2.5 crore doses - of unused COVID-19 vaccines from its stockpile through the UN-backed COVAX global vaccine sharing programme to countries in South and Southeast Asia as well as Africa.
Set aside for India portion from COVID vaccine doses, Senator urges Biden
SENATE Majority Leader Chuck Schumer has urged President Joe Biden to set aside for India a portion from 80 million COVID-19 vaccine doses, which the lawmaker said is now the epicentre of the pandemic. In a letter to Biden, Schumer said India helped the US in the hour of need earlier by sending much needed protective personnel equipment. "Now, it is time for us to give back and help the people of India," he said in the letter dated June 1.