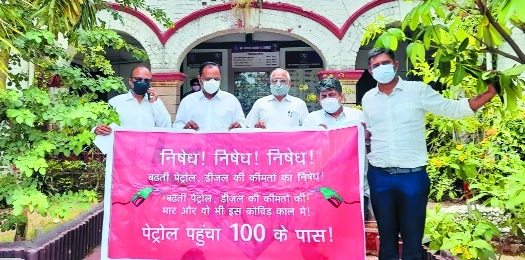 Skyrocketing fuel prices are not only troubling the common man but it is also hurting the traders who staged demonstrations against it here on Friday. Holding placards, the traders under the banner of the Nag Vidarbha Chamber of Commerce (NVCC) expressed concern over the rising prices of petrol and diesel especially when the commercial activities have been affected severely.
NVCC, which is the largest body of over 13 lakh members spread across the region, demanded the Government to bring down the fuel prices to ease the financial burden of the traders.
Ashwin Mehadia, President of NVCC, said that the recent lockdown like situation has caused a dent to the economy. "And traders are the ones who are worst affected due to it. They are struggling on various fronts and they cannot afford to spent extra on fuel," he said.
Mehadia further said that the people have been shying away from using public transport system in the current situation. "Due to this, most of the people are commuting on their own vehicles. The Government should take note of this situation and roll back the price hike," he added. Petrol price in the city has surpassed the Rs 100 litre mark recently creating a record all time high. Diesel price also saw a jump to cross the Rs 90 per litre mark.
Even as the fight against the coronavirus continues and people cutting across all sections of the society are facing hardship due to it, fuel prices are showing consistent hikes for the past couple of weeks.
Mehadia said that on the one hand the business class and general public of the country are facing financial crisis due to the market restrictions for the past one year and on the other hand their business and family expenses have increased.
The NVCC also observed that the inflated fuel prices are pushing up prices of various commodities. "The cost of goods transportation is directly proportional to the fuel price which has seen a sharp hike recently," the traders' body added.
The office-bearers of the camber along with its Secretary Ramavtar Totla expressed their strong opposition over the rising prices of petrol and diesel. They demanded that the Central and the State Governments should cut the taxes on petrol and diesel. By reducing the prices of petrol and diesel, the business class and the general public will get much needed relief, they said.
On the occasion, Sanjay K Agrawal, Vice-President; Swapnil Ahirkar, Joint Secretary; Sachin Puniyani, Treasurer and others were also present.