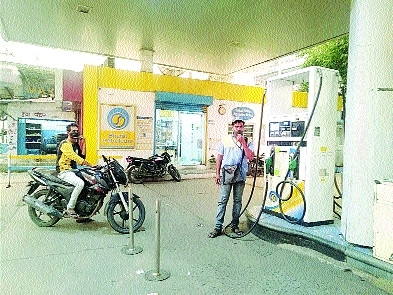 Staff Reporter :
Petrol and diesel prices have hit a new all time high again on Sunday after the State-run oil companies revised prices again. In Bhopal, petrol was sold for Rs 103.23 per litre and diesel for Rs 94.56 per litre which literally made the people numb. Petrol price has been increased 17 times during month of May while in June, rates have been enhanced for three times. Madhya Pradesh is the only state in country having highest fuel surcharges. Ajay Singh, President of Petrol Pump Owners Association said, "State Government adds its own taxes on fuel after center decide the tax on base price. Besides, cess is additionally charged on fuel which made it costlier." He further informed that the State Government is charging 33 percent tax excluding the cess.
He added that this year fuel price have been surged ten times in January, 16 times in February while in May fuel price increased for every alternate days. Before May, last fuel price increment was witnessed on February 27 He said, in March fuel price was decreased for 3 times and one time decreased in April. In last week of May, petrol was sold for Rs 101.17 per liter and diesel was sold for Rs 92.27 per liter. While on May mid petrol price in Bhopal was Rs 98.39 and diesel Rs 91.96 per liter, it broke all records by surging 20 paisa for petrol.
For past twenty days, fuel price is being inflated on every alternate day. The high level spike in petrol and diesel price seem to worry a common man amid the pandemic. People said that they are already facing financial issues during Covid-19 pandemic in the meantime price rise has spoiled the monthly budget. In current time, while businessmen are facing loss due to closure of shops, salaried people are receiving deducted wages. They said after financial and health issues, now fuel price has put them in worse situation.