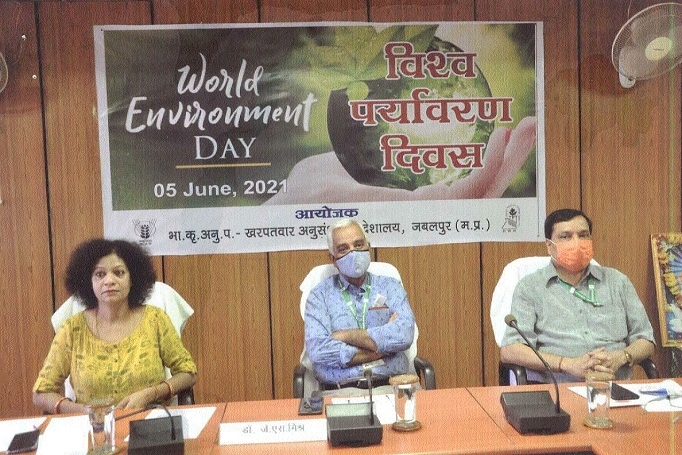 Dr P J Khankhane and other experts attending the webinar.
Staff Reporter :
To create awareness about value and importance of nature, the World Environment Day event was organised with a webinar at the Directorate of Weed Research, Indian Council of Agriculture Research on Saturday. Dr P J Khankhane, retired Head Scientist talked in length on the theme of World Environment Day-2021 i.e. 'Water Pollution and its Filtration through Phytoremediation under Ecosystem Restoration'. Dr Khankhane discussed about constant declining water quality in the canals, ponds and rivers across the country and added that around 15 lakh people died of diarrhea after consuming polluted water. Similarly many diseases are occurring in human beings due to high concentration of lead, comium and cadmium in water.
He further pointed out on rising risk on health due to presence of Arsenic in the under-ground water in Madhya Pradesh. On the basis of conclusion of various self-research, Dr. Khankhane discussed about the significance of Vetiveria, Arundo Donax and Typha plants for filtration of industrial and sewage water. Dr J S Mishra, Director, Directorate of Weed Research explained about 3R (Reuse, Reduce and Recycle) to sut down the amount of waste we throw away. The 3R initiative aims to build a sound material cycle society through the effective use of resources and materials. Dr Mishra mentioned plantation a effective measure to redefine environment in future and emphasized over the need to identify the significance of oxygen, water and other resources.
Head Scientist, Dr Shobha Sondhiya anchored the programme which was attended by Dr P K Singh, Head Scientist from Directorate, scientists, technical, administration and other staff along with scientist from AICRP Weed Management, ICAR Institute and NGOs.