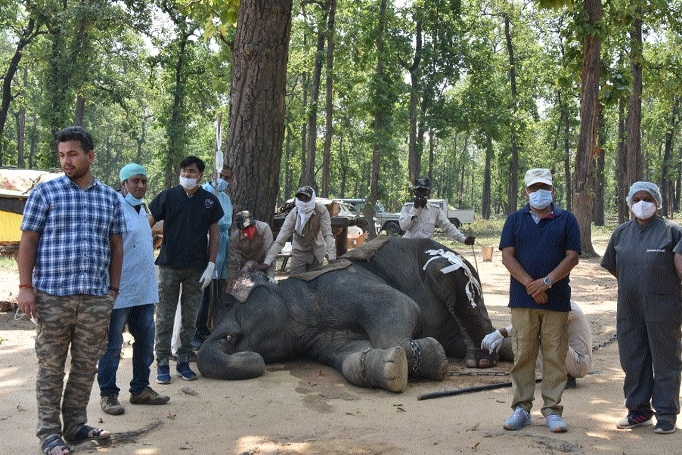 Team of veterinarians after successful surgery of female elephant at Sanjay Tiger Reserve.
Staff Reporter ;
Surgery of the female elephant suffering from bullet surgery was conducted by team of School of Wildlife Forensics and Health of Nanaji Deshmukh Veterinary Science University, at the Sanjay Gandhi Tiger Reserve, Sidhi. The female elephant was rescued from Madhya Pradesh and Chhattisgarh border and was rehabilitated at Sanjay Tiger Reserve and Bandhavgarh Tiger Reserve and later she was included in park management of Sanjay Tiger Reserve, Sidhi. The park management found that the female elephant had an old injury which was badly infected. Senior veterinarians of School of Wildlife Forensic and Health were contacted for her treatment.
Taking a serious note on the injury of wild animal, NDVSU, Vice-chancellor, Dr. Sita Prasad Tiwari sent a team of senior veterinarians comprised of Dr. Shobha Jawre, Dr. Amok Rokde, Dr. Babita Das reached at Sanjay Tiger Reserve. The team in association with local veterinarian, Dr. Abhay Sengar successfully conducted surgery for 3-hours. It was found that the female elephant had sustained the bullet injury around two years back. On the occasion, Sanjay Tiger Reserve, Field Director, YP Singh, Bandhavgarh Tiger Reserve, Veterinarian, Dr. Nitin Gupta and other officers were present.