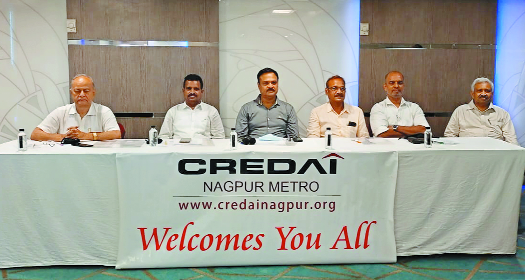 THE realty sector has been hit hard with rising prices of basic raw material like cement, steel, electric wires, PVC pipes etc., which are pushing up the cost of construction.
"Due to steep hike in prices of construction materials the cost of construction has increased by 20 per cent which comes to around Rs 300 per square feet in the real estate sector," said Vijay Dargan, President of CREDAI Nagpur Metro while speaking at a press conference on Friday.
He further said that the prices of construction raw materials are steadily inching upwards over the last couple of months and have hit real estate hard. This has affected the developers who are struggling not to pass on the increase to the customers but now cannot hold the same for long," Dargan pointed out.
Dargan said that the Government should intervene and control the rising prices of raw material required in construction business. Apart from this, Government should lower the GST rates and provide RERA automatic extension like it did last year during the first
COVID-19 wave.
"The retail cement prices have increased by 40 per cent to 50 per cent from Rs 250 in May 2021 to up to Rs 370 per 50 kg bag in June and in July it is again expected to rise. The price of iron has increased from Rs 35 to Rs 40 per kg to Rs 60 to Rs 65 per kg," said Sunil Duddalwar, former President.
Anil Nair, former President, Prashant Sarode, former President, Rajmohan Sahu, Treasurer, vice-presidents Ekalwaya Wasekar, Chandra shekhar Khune and joint secretaries Abhishek Javery, Vijay Joshi and Pratish Gujarathi were present in the conference.