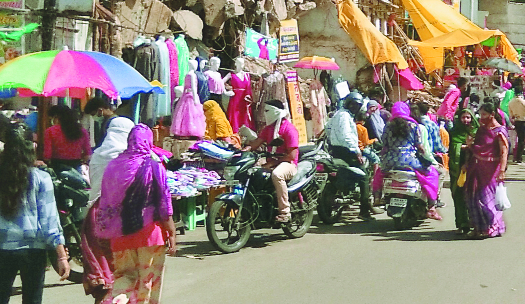 Demanding the restoration of normal business hours for shops and other commercial establishments here in the city, a delegation of traders recently met District Collector Ravindra Thakare and Municipal commissioner Radhakrishnan B.
Highlighting the recent fall in number of corona positive cases in Nagpur, the delegation under the leadership of Nag Vidarbha Chamber of Commerce (NVCC) President Ashwin Mehadia urged the authorities to ease the market restrictions. Arjundas Ahuja and Sanjay K Agrawal, both vice-presidents of NVCC; Ramavtar Totla -Secretary; and Shabbir Shakir - Joint Secretary were also present on the occasion.
The traders said that the authorities should strike a balance between allowing commercial activities and control
of coronavirus.
The traders want the district administration and municipal body to allow shops (of non-essential commodities) to remain open till 8 pm for at least six days in a week. As per the latest guidelines, the shops selling non-essential commodities are allowed only till 4 pm from Monday to Friday.
Mehadia said that the cases of corona have dropped significantly in the district and thus there is scope for giving
further relaxation to commercial activities.
Unfortunately, the traders are still facing restrictions which are troubling a large number of shopkeepers and employees working in it.
"Shops of non-essential commodities have been allowed to operate only till 4 pm that to between Monday and Friday which is not enough," he said.
Mehadia further said that most of the commercial activities have been severely affected due to the lockdown-like situation. "Many traders are facing a deep financial crisis and it will take a very long period for their recovery. "Amid such a situation, these market restrictions are further posing hurdles before them," he said. Nag Vidarbha Chamber of Commerce, representing more than 13 lakh traders spread across the region, said that the authorities should come out with a new guidelines applicable from July 12.
NVCC has been creating awareness among the shopkeepers with regard to maintaining physical distancing and encouraging them to follow self-discipline and regulate the customers to avoid corona infection. Apart from this, the traders body has also appealed to all its members to take vaccination.
Most of the traders have been complaining that their business has already been destroyed because of the restrictions and they cannot bear it any more. The city has been witnessing weekend lockdown and night curfew due to which commercial activities are affected.