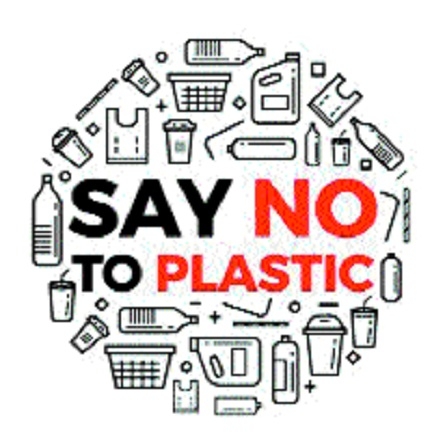 Staff Reporter :
During 'Plastic Free July', admin is again active to impose the ban in city n COVID-19 has increased the use of plastic in form of gloves, PPE, masks
Choked rivers and nullahs due to plastic waste and thermocol is a common scene every where in the city. To avert flood-like situation, the Nagpur Municipal Corporation (NMC) conducts cleanliness drive of rivers and nullahs every year before monsoon. Still, the water-logging occurs every year. 'Plastic Free July', a global initiative, is getting tremendous response world-wide. But, the issue will rear its head every year unless people shun usage of plastic in their daily life.
As per the recent data, Nagpur generates 1,200 tons of Municipal Solid Waste (MSW) every day, in which it generates 84 tons per day of plastic waste comprising 7% of the total solid waste. According to the District Environment Plan, there are total 24 plastic waste collection centres across Nagpur district with 263 plastic waste pickers. The district has 247 plastic waste recyclers and 10 plastic manufacturers. About one ton per month plastic is used in road-making and 244.8 ton per month is sent to for co-processing in cement kiln. The administration also implemented the Plastic Waste Management Rules, 2016 in all the Urban Local Bodies of Nagpur district. Though the district has enough facility to re-use or dispose off the plastic waste, the administration is somehow lagging behind when it comes to reducing the environmental impact of plastic. Nagpur city is the highest plastic waste producer in the district. The civic body gave some relaxation in use and sale of plastic in the city due to lockdown for the last one year.
People misused the relaxation and the use of plastic has increased in the city in the last few months. "Instructions have been given to Assistant Commissioners of all zones for taking action against the shop owners who are using plastic bags in the city. Some relaxation are there for roadside vendors from our side amid this pandemic situation. No fine will be imposed on them for the first time," Rajesh Bhagat, Deputy Commissioner, Solid Waste Management told The Hitavada. Nuisance Detection Squad (NDS) is also now active in the city, which is now imposing fine over shop owners who are selling and using banned plastic bags, said Bhagat. Amid this pandemic situation, the use of Personal Protection Equipment (PPE), suits, masks, face shields and gloves, all of disposable material, usually plastic, have increased. The civic body is collecting such plastic materials from quarantine centres and hospitals on regular basis, but there is no proper way to dispose of such plastic materials, which is causing concern.
"Before COVID-19, administration did try to restrict the use of single use plastic to some extent, but due to pandemic, priorities changed and single use plastic again mushroomed in the market. Instead of catching hold of sellers, we need to target the manufacturers who are producing plastic items, which have been banned by the Government," said Surbhi Jaiswal, Team Lead, Green Vigil Foundation. Jaiswal said, "We need to have plastic recycling unit as well as solid waste treatment plant. Need to have out of box ideas for reuse of plastic like using in road construction." It is a pity that we have implemented plastic ban since 2018 but till today, we do not have an affordable alternative, she added.