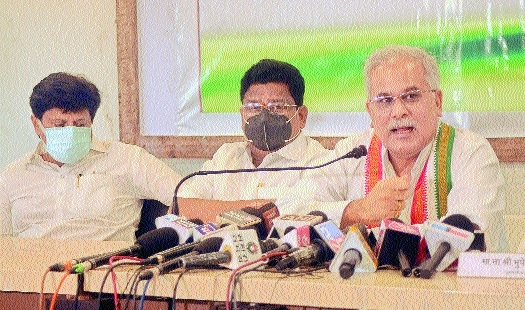 Bhupesh Baghel making a point during the press conference as Vikas Thakre and Rajendra Mulak look on. (Pic by Satish Raut)
Staff Reporter :
"Record breaking hike in prices of petroleum products has derailed the economics of Indian households who have suffered double whammy due to wrong policies of Central Government. Firstly, wrong handling of COVID-19 situation on part of ruling National Democratic Alliance (NDA) Government at Centre hit hard countrymen and now the rising inflation is driving them to despair," said Bhupesh Baghel, Chief Minister, Chhattisgarh, on Wednesday. Continuing criticism of Central Government, Baghel said Congress Party is adopting a different model of protest but aim is to rope in citizens and through their support ensure economic model of country is brought on right track. Baghel was addressing a press conference in city during his one-day visit.
The high inflation is solely due to mishandling of economy on part of ruling Bharatiya Janata Party (BJP) and it proves they are better in opposition, the Congress leader said while taking a jibe. Never before in history, the citizens had to face such misery as most of the items of daily needs are moving past their purchasing power and this is solely due to record hike in prices of petroleum products. Though crude oil prices have stabilised, in India reverse is happening, the daily hike of petrol and diesel is causing unexplainable trouble on home front. And to worsen the situation, BJP leaders are still high with absolute power and paying little attention to ground situation and taking steps to provide succour to citizens. Further Central Government is engaged in increased centralisation and pointed out cess imposed on petroleum products that ensures money is not required to be shared with States, unlike Excise Duty.
Also he pointed that as Chief Minister Narendra Modi opposed GST but after becoming Prime Minister they took credit for implementing it at stroke of midnight. However contrary to claims of one nation, one tax, today's flawed GST means one nation, and five taxes said Baghel referring to multiple tax slabs. Even agriculture products and essential items figure in highest tax slab, leaving farmers to fend for themselves.
To a question, BJP enacted so many 'historic' decisions, including withdrawal of high value notes, then why are they hesitant in seeking vote on that country. These good decisions as BJP claims never figure in their election rallies, if they have benefited the citizens in anyway. Similarly, BJP is misusing Enforcement Directorate to target non-BJP leaders and ignoring rampant corruption charges against their own leaders. The Central agencies are being misused to target Opposition ruled states. Vikas Thakre, MLA, and President, Nagpur City Congress Committee; Rajendra Mulak, President, Nagpur District Congress Committee; Vishal Muttemwar, General Secretary, Maharashtra Pradesh Congress Committee; and Atul Londhe, Spokesperson, were present during the press conference.