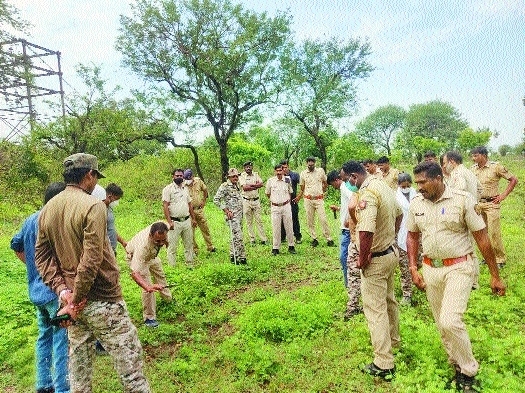 A joint team conducting search operation in OFAj premises after getting information about spotting of a leopard by two persons.
Staff Reporter :
No signs indicating presence of leopard were found during search operation
Sensation prevailed in Ordnance Factory Ambajhari estate after news about sighting of a leopard spread like a jungle fire since early morning of Thursday. According to information, a Defence Security Corps (DSC) personal Bhajan Singh first spotted the leopard between 10 No. Chauki and 11 No. Chauki in the estate around 1.30 am. The same leopard was sighted at 9 No. Chauki by an OFAj employee P L Potbhare around 2.30 am. After getting the information, a team of Forest Department officials rushed to the spot and launched a joint search operation with State Reserve Police Force (SRPF) and OFAj security in the estate.
"This time we have found no sign indicating presence of leopard during the search operation. We have also installed 10 camera traps in the locality," Assistant Conservator of Forests (ACF) Surendra Kale told The Hitavada. The foresters suspected that the leopard may have come from nearby Ambazari Biodiversity Park. OFAj has larger forest area than Ambazari Biodiversity Park and the leopard is regularly venturing in the premises for some time. Forest officials are monitoring the Ordnance Factory area constantly but so far no confirmation of leopard's movement in the zone has been recorded in any of the camera traps installed by the department.
The leopard was first sighted on July 9 by a security guard near Nagalwadi village situated beside the OFAj area. A joint team of Forest Department and OFAj conducted a search operation where they found pugmarks of a leopard. Forest Department has created awareness about the leopard at nearby villages and among the OFAj residents. If a person spots a leopard inside the premises and nearby areas, can contact Transit Treatment Centre (TTC) on toll free no. 0712-2515306 or on 1926.