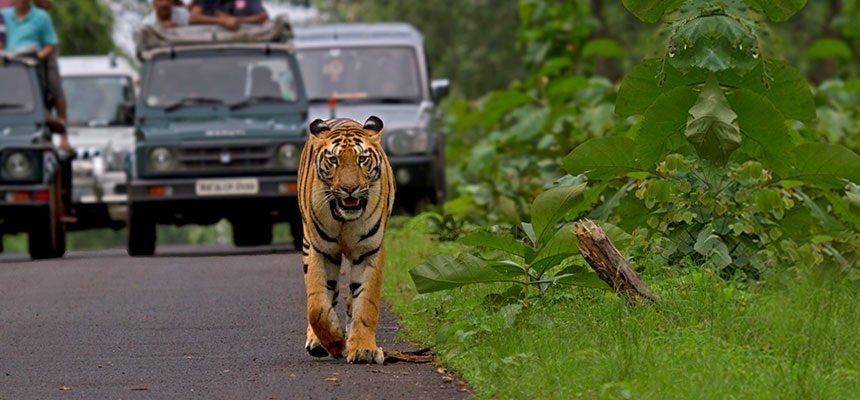 Staff Reporter :
Tourists can enjoy Monsoon Safari in buffer zone of TATR till September 30
The Tadoba Andhari Tiger Reserve (TATR) on Wednesday has decided to allow on-line booking for Monsoon Safari in the buffer zone from July 16. Due to the pandemic, the jungle safari in buffer zone of TATR was closed till April 14 which was re-opened on June 24 with some restrictions. The off-line booking was only allowed for the jungle safari during that period. Tourists from all over the state were violating the COVID-19 norms during off-line booking for jungle safari at various gates. To avoid the violations and rush, the management has decided to allow only on-line booking for jungle safari in buffer zone of Tadoba from July 16.
Those who want to book the safari for July 16, have made on-line booking on July 15. The jungle safari during the monsoon period will be held from July 16 to September 30 and only on-line booking will be allowed for it. The timing for the safari will be 6 am to 10 am and 2.30 pm to 6.30 pm. Total charges for the safari will be Rs 4,000, including Rs 1,000 for entry fee, Rs 2,500 for Gypsy and Rs 500 for a guide. Total 13 out of 14 gates will remain open for tourists in the buffer zone. Six persons of a same family will be allowed in a Gypsy during the safari.
Otherwise only four persons will be allowed in a vehicle. Every tourist, guide and driver must have to adhere to COVID-19 norms. During Monsoon Safari, other activities like Night Safari, Boating, Kayaking, Bird Machan, Night Machan Stay and Log-hut Stay will remain suspended.