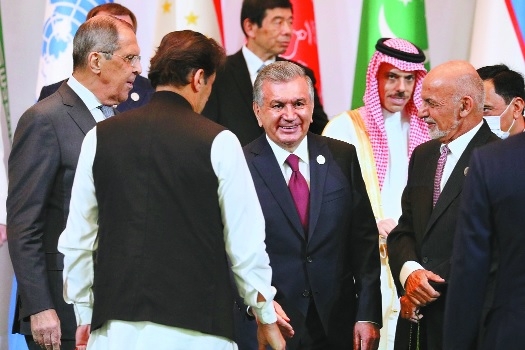 AFGHANISTAN President Ashraf Ghani on Friday lambasted Pakistan for not severing its ties with terrorist organisations groups and said that according to Intelligence reports over 10,000 'jihadi' fighters had entered Afghanistan in the last month, while the Imran Khan's Pakistan Government had failed to convince the Taliban to "negotiate seriously" in the ongoing peace talks.
Addressing the innagural ceremony of the Central and South Asia connectivity conference here, Ghani said, "contrary to repeated assurances by Khan and his Generals that Pakistan does not find a Taliban takeover in Afghanistan in its interest and short of use of force will use its power and influence to make the Taliban negotiate seriously, networks and organisations supporting the Taliban are openly celebrating the destruction of the assets and capabilities of the Afghan people and State." The Afghanistan President also asked Pakistan to use its "influence and leverage for peace and cessation of hostilities" amid an increase in violence by Taliban.
In his response a short while later at the conference, Imran Khan said he was "disappointed" by Ghani's allegation that Pakistan had a "negative role" in the Afghanistan peace process. "To blame Pakistan for what is going on in Afghanistan and Taliban is not fair," he said.
Imran Khan said Pakistan was a partner in peace and that regional peace and stability were of utmost importance for enhanced trade and economic cooperation in the region. "Afghanistan is natural land bridge between Central Asia and South Asia, and peace in Afghanistan is the most critical factor for regional connectivity," he said.
'Pakistan giving air support to Taliban': HOURS after Pakistan on Thursday confirmed that the Taliban were in control key Afghan border town, a high ranked Afghan leader said that Islamabad has now issued a warning to the Afghan Army and Air Force against dislodging the Taliban from Spin Boldak border area. Taking to Twitter, Afghan First Vice President Amrullah Saleh said that the Pakistan Air Force is now providing close air support to the Taliban in certain areas.