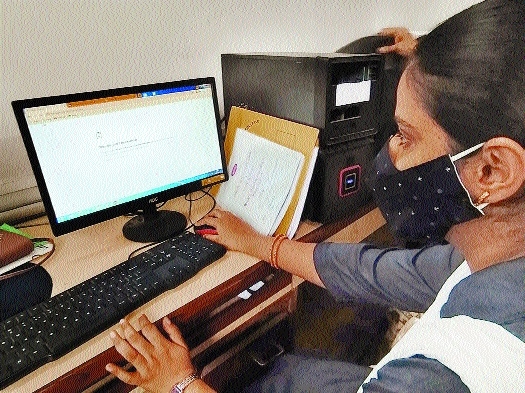 Nagpur divn improves its result, but stands at bottom in State
This year, the result has gone up to 99.84%
Maharashtra State Board of Secondary and Higher Secondary Examination declared the result of SSC on Friday but a technical glitch in the Board's website spoiled the mood of students as they could not get to see their results. Board authority could not reveal the reason but too much traffic must have created the problem, it is learnt.
On Thursday, Education Minister Varsha Gaikwad had announced the date of SSC result declaration. It was supposed to be out at 1 pm on Friday. Since examination was cancelled the students did not have the admit cards. However, as per the tradition Board had already sent the roll numbers of each individual student to the respective schools. Schools sent the numbers to the students at 11 am. Schools too got busy in taking out the result to have their own compilation. Shockingly after several number of attempts, the two websites - 'result.mh-ssc.ac.in' and 'mahahsscboard.in' remained unopened. Several students were disappointed and took the support of social media to express their anguish. Till Friday evening, no solution was found. Now according to Board the result is likely to be declared on Saturday.
Fortunately, the Board at its level could find out the overall result before the website got crashed. As per the statistics compiled by Board, Nagpur division has enhanced its own pass percentage but it stood at the bottom as compared to other Divisional Boards in Maharashtra.
As per Maharashtra, SSC assessment criteria, students to be evaluated on the basis of their performances in Class IX and Class X. Out of the total 100 marks, 50 per cent marks were to be derived from their performance in Class IX, 30 per cent from year-long internal assessments of Class 10 and 20 marks had been assigned to practical or homework or assignments.
Nagpur division has improved its own tally in Secondary School Certificate (SSC) examination, the result of which was declared on Friday.
Last year the division's result was 93.84%. This year the result has gone up to 99.84%. Despite there is a rise of 6%, Nagpur Division stood at the bottom in the overall tally of all Divisional Boards in State. The examination was conducted by Maharashtra State Board of Secondary and Higher Secondary Education (MSBSHSE).
The overall result of Maharashtra is 99.95 per cent this year. Girls have slightly outperformed boys. Among the students who appeared for the examination, pass percentage of boys in State is 99.94 while that of girls is 99.96%. Amongst all nine divisions, Konkan topped the chart with pass percentage of 100, followed by Amravati with 99.98 per cent. Latur, Nashik, Aurangabad, Mumbai, Pune have scored 99.98%. Surprisingly, Kolhapur that had secured second position last year stood just above the Nagpur Board at eighth, just above Nagpur Divisional Board.
Pass percentage in Nagpur Division
District Students Pass
Gondia 19,794 19,260 99.92
Nagpur 59,925 59,847 99.86
Bhandara 16,492 16,467 99.84
Gadchiroli 14,625 14,610 99.89
Chandrapur 28,821 28,718 99.64
Wardha 16,368 16,361 99.95
Total 1,55,505 1,55,263 99.84
With 99.98% result, Amravati Division second in State
Amravati division stood second in the state with 99.98 percent result. In Amravati division, Akola and Yavatmal districts shared top spot with 99.99 percent result. Even in the division, girl students outclassed boys by 0.1 percent better result.
The SSC examination of Maharashtra State Board of Secondary and Higher Secondary Education was scheduled to be organised from April19, to May 20 and was later cancelled due to second Covid-19 wave. As examination was not conducted the responsibility to perform result was shouldered on the schools through evaluation process. The MSBSHE declared the result according to that in virtual manner.
Sharad Gosawi, President of Amravati Divisional Board announced the result to the media at the Board office on Friday. Nilima Take, Secretary and Dr Jayashree Raut, Joint Secretary were present on the occasion. Amravati Division has shown 4.84 percent better result compared to last year.
Total of 1,58,837 were proved eligible for evaluation from Amravati Division for March 2021 SSC examination. Out of them 1,58,816 students succeeded. They include 84,928 boys and 73,888 girls. The pass percentage of boys was 99.98 percent while that of girl students was 99.99 percent. Akola and Yavatmal Districts shared top spot from Amravati Division with 99.99 percent result. While Buldana District scored 99.98 percent result. Washim District also scored 99.98% result. Akola District scored 99.99%. Yavatmal District also scored 99.99% result. Amravati District remained at the bottom of the table with 99.97% result. Total of 38,972 students from Amravati District were eligible for evaluation from which 38,964 succeeded. Total of 83,000 students from Amravati Division have scored distinction grade with more than 75 percent of marks. While 68,086 students have scored first class grade with marks between 60 to 74 percent marks, 7614 students have scored second class with marks between 45 to 59 percent marks and 116 students succeeded with pass grade.