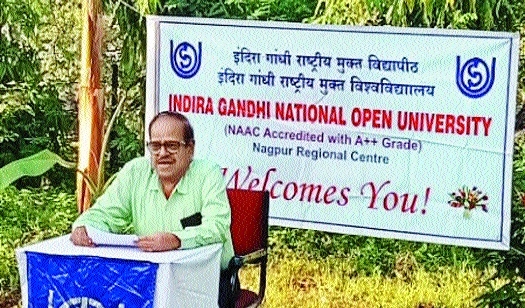 Principal Correspondent :
In 2009, Dr P Sivaswaroop took over as Regional Director of Indira Gandhi National Open University (IGNOU) at Nagpur. Then Nagpur IGNOU Centre had 2,881 students, the number has increased by three times. One can say what is so big about in 11 years, the IGNOU Centre witnessing three fold rise. But, only Dr Sivaswaroop knows how much one has to toil to get even a single student. He had found a woman in a remote village in Gadchiroli district and IGNOU kept sending study material for that lone woman treating her as most valuable student like other students. Now, IGNOU has established its name as Dr Sivaswaroop connected it to the society.
"When I took charge I did not have anything specific in my mind. I knew IGNOU is an open university and reaching the unreached is its motto. One thing was in my mind and still is 'IGNOU is here to help those who have strong willingness to learn'. I never compete with other universities or institutions. I believe in togetherness. All will grow if all will go together," Dr Sivaswaroop made it clear. While promoting the IGNOU, Dr Sivaswaroop tried to establish the credibility of university. It is credibility that makes all difference. When he took over as Regional Director, Yashwantrao Chavan Maharashtra Open University had already established its name.
Being from Maharashtra it had more connect with the people of this soil. Dr Sivaswaroop with his creativity kept working on several projects. Gradually, YCMOU's presence started becoming invisible in several sectors for the reasons best known to the authorities of the university. At the same time IGNOU kept growing. In 2009 there were 2,881 students and now it has gone up to 6,894. The number of programmes too has increased to 139 from 63 those were in 2009 and number of centres have gone up to 37 from 11.
"We have tried to bring more flexibility in the education that we impart and in our overall system. For example we have expanded our horizon by restarting Gynawani, Gyandarshan our radio and TV channel. Students can take classes there. Secondly, now during pandemic we have to adopt online classes. The students in rural area face net problem while taking online classes. So we found the solution and asked students to get the classes downloaded when net is on and can watch those even if net is not available. IGNOU became the first university to conduct offline examinations during pandemic as students wanted the same. We followed all the rules and succeeded in holding it," informed Dr Sivaswaroop.