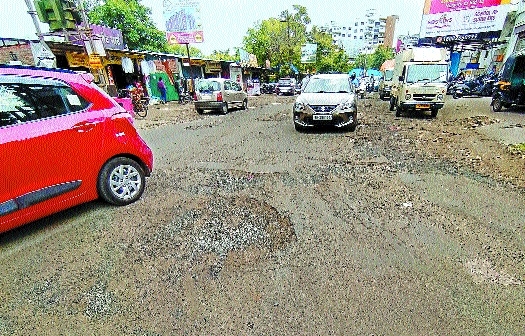 Potholed: A glimpse of potholes on Manish Nagar stretch of road that connects to Besa and Beltarodi ahead. (Pic by Satish Raut)
Staff Reporter :
Rainy season and potholes on city roads might be made for each other. Multiple agencies seem driven by agenda to recreate dirt tracks to provide rider, notwithstanding the dangers involved. A classic example is Manish Nagar area where citizens are at receiving end of extra neglect on part of Nagpur Municipal Corporation (NMC). The two big roads that are being concretised are best with their own problems. Delay in completion of construction, and onset of new challenges for citizens post completion of roads. Present set of conditions on road in the Manish Nagar area is perhaps indicative of total disregard to people's health and safety on part of civic body. And this is happening despite the area's councillor being a Ruling Party Leader in NMC House. The potholes on the roads have grown so big that even riding in four wheelers provides no escape from jolts.
At Manish Nagar T-point to road ahead that connects to adjoining Besa and Beltarodi area (in front of Purshottam Bazar) one gets a glimpse of development gone awry. The tar road cannot withstand pressure of heavy vehicles ferrying construction material to a fro on daily basis and could have been concretised. It's barely a 25 meter stretch from Manish Nagar T-point to Besa turning and present road condition means it is fit enough to be retired. Potholes have developed at every foot and are now so big that no room is left even to manoeuvre if one desires to avoid them. Daily hundreds of people take the bumpy ride as this road stretch is main connectivity with city for those living in Besa and Beltarodi area. A significant aspect of this stretch is that for the other agency of Government, the police department, it is a happy hunting ground.
Over a dozen challans are issued daily by Traffic Control Branch cops to citizens not wearing helmets while driving two wheelers on road that is not even fit to walk, let alone drive. Means, Government agencies on one hand are very particular about enforcement of norms but at same time tax payers cannot expect even a decent ride home. Given the traffic load in the entire area, it was expected that potholes would be quickly repaired but with nearly one and half months into monsoon, civic body nor other agencies are in mood to provide respite to citizens. Now potholes have appeared on newly constructed cement road, infront of auto stand on Manish Nagar road near the fly-over. To make matters more complicated, contractor has not yet affixed paver blocks on one side of road.
Thus, parking of vehicles on the road that is lined up with shops on either side ends up reducing the carriageway. Moving onto the another road stretch in Manish Nagar that takes off Rudra Bar T-point is another study on how not to carry out development work. Just before one moves onto smooth cement road, the connecting tar road has cracked, potholes is too small word for the damage. As one moves ahead towards the Somalwada railway crossing, entire road disappears as no repairs were carried out since concreting is currently on adjoining road.