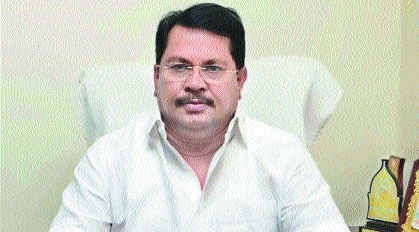 Vijay Wadettiwar
Staff Reporter :
Vijay Wadettiwar, Relief and Rehabilitation Minister, announced on Sunday that a state-of-the-art Disaster Management Centre would be set up in Multimodal International Hub and Airport at Nagpur (MIHAN) area. The Rs 1,600 crore project will come up on 10 acres of land, and provide disaster and cyclone alerts, accurate forecasts of rainfall, and help in mapping of crop loss due to natural calamitis, he said. Interacting with mediapersons at Ravi Bhavan here, Wadettiwar said that a consultant had been appointed and the project work was expected to be completed in one-and-a-half years.
The centre will be set up on the lines of one in Israel, he added. Asked about need for such a centre forecasting technology was available with the Indian Meteorological Department, he said that the department's predictions were going wrong. "Indian Meteorological Department had predicted 102 per cent rainfall this year. However, barring Mumbai and Konkan, other parts of Maharashtra have not received good rainfall. Bhandara and Gadchiroli districts in Vidarbha have received very less rainfall, resulting in drought-like situation there. The weather department's forecasts are going wrong. Therefore, the state-of-the-art Disaster Management Center will be set up in MIHAN," Wadettiwar explained. It will be the most-equipped such centre in India. A proposal in this regard has been sent to the State Government. For the centre, help will be sought from the Central Government. Once the centre becomes functional, it will provide information in advance about time and duration of rainfall etc.
This will make it convenient for the Government to initiate measures well in time for better response to the likely disaster situation, said Wadettiwar. According to him, the panchnama of crop damage in case of excessive rainfall conducted every year was 'flawed', resulting in many deserving farmers getting deprived of financial aid from the Government. The information provided by the proposed centre will help in accurate survey of crop damage and payment of aid to deserving candidates, he said. In case of Bhandara and Gadchiroli districts of Vidarbha region and some parts of Marathwada region, drought-like situation prevailed due to lack of adequate rainfall. "If these areas do not receive rainfall, we will discuss the possibility of artificial rains there, in the State Cabinet meeting," he said.
'Aid to Mumbai landslide victims' families' As far as rains in Mumbai and landslides claiming several lives was concerned, Vijay Wadettiwar said that heavy rains had lashed Mumbai since Saturday early morning. Santacruz and Chembur areas received 234-270 mm rainfall in 24 hours. As many as 21 people had lost lives in Chembur, Vikhroli, and Bhandup areas due to landslides. "Despite warning of heavy rains, the locals ignored them," he claimed. The Government will provide Rs 5 lakh aid to the family members of the deceased. Of this amount, Rs 4 lakh will be given from disaster relief fund and Rs 1 lakh from Chief Minister's Relief Fund. Also, he said, up to Rs 95,000/- will be given in cases of house collapse and Rs 10,000/- and foodgrains will be given as immediate aid to the affected families.
Nagpur, Chandrapur to get state-of-the-art fire tenders Disaster Management Department has procured 19 fire tenders, each one costing Rs 2.60 crore. Of these, one fire tender each will be given to Nagpur and Chandrapur. Each fire tender is state-of-the-art and will be useful in controlling fire in areas where access is difficult. The new fire tenders will be able to spray water up to 200 meters.