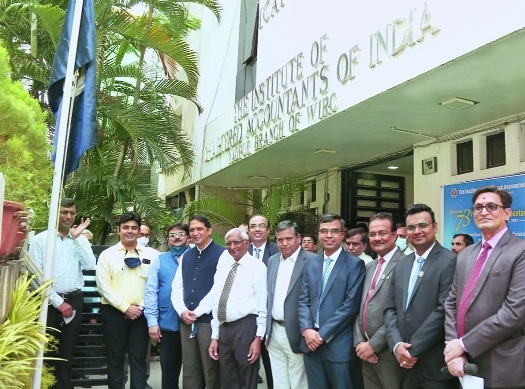 Business Bureau :
The Nagpur Branch of ICAI on Thursday observed the 73rd Chartered Accountants' Foundation Day with great fanfare. The ceremony started with flag hoisting at the hands of senior and eminent Chartered Accountant of the city CA Dilip Rodi who was chief guest on the occasion. Past President of ICAI CA Jaydeep Shah was guest of honour and various other members of profession and managing committee of Nagpur Branch and of WICASA, Nagpur were also present. Expressing his views, CA Rodi said that responsibility and accountability along with expectations in social scenario are the key words for today's Chartered Accountants.
"The current pandemic has created an opportunity for people to create their infrastructure and to make optimum use of technology while discharging their duties in work from home mode in the most diligent manner," said Rodi adding that expectations are there from Chartered Accountants on both the Government as well as general public stand. Just like doctors take care of our health, Chartered Accountants take care of the financial economy and that's the reason Chartered Accountants are said to be the financial doctors of the economy, he added. He congratulated CA Saket Bagdia, Chairman of Nagpur Branch and his team for taking various initiatives for the benefit of members.
CA Jaydeep Shah spoke about the illustrious past of the institute and Nagpur Branch as well. He appealed to the members to exercise all prescribed measures to stay safe and stay healthy. CA Bagdia in his welcome address said that it is a moment of great joy and pride to celebrate 73rd Chartered Accountants Day. Regional Council Member, CA Abhijit Kelkar, congratulated members on the occasion. Blood donation camp, health check up camp and post Covid-19 consultation camp were also organised to mark the event. Health Check up camp was inaugurated by CA P C Sarda, blood donation camp by CA Shambhu Tekriwal and post Covid-19 Consultation camp by CA Hemal Kothari. CA Jiten Saglani, Vice Chairman coordinated flag hoisting ceremony while CA Akshay Gulhane, Treasurer, coordinated the inauguration of various camps. Formal vote of thanks was proposed by Secretary CA Sanjay M Agrawal. CA Kirit Kalyani, Immediate Past Chairman, CA Julfesh Shah, Past Vice Chairman, WIRC, CA O S Bagdia, CA Swapnil Ghate, CA Sandeep Jotwani, CA Anil Kedia, CA Pranav Limaja, CA Varad Rajan; WICASA Nagpur Committee Members - Ameya Soman, Aviral Barange, Radhika Taneja, Karan Agrawal, Karan Tajne, Ravina Tayde and Parag Jain were present.