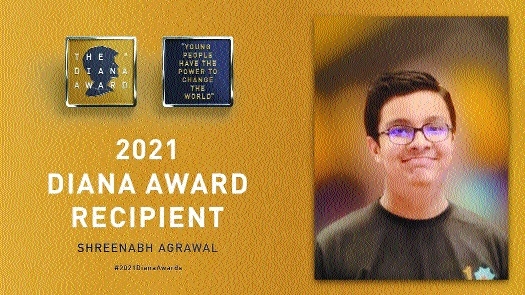 Staff Reporter :
Nagpur's talent Shreenabh Agrawal, a 17-year old boy, from the Chanda Devi Saraf School and Junior College has added another feather to his cap, when he was conferred upon the prestigious The Diana Award. In a glittering virtual ceremony, Prince Harry, the Duke of Sussex, the younger son of Princess Diana congratulated all the winners on behalf of the Royal Family. Every year the award ceremony is held at London, but due to the coronavirus pandemic, it is being held virtually since last year. Shreenabh has been awarded for going above and beyond in his daily life to create and sustain positive change. After seeing how his grandmother was always looking for someone to talk to, he launched his 'Oldy Goldy Clubs'.
The project brings together senior citizens and young people to bring companionship and support into each other's lives. Established in memory of Diana, Princess of Wales, the Award is given by the charity by the same name and has support of both her sons, The Duke of Cambridge and The Duke of Sussex. Tessy Ojo, CEO of The Diana Award, says: "We congratulate all our new Diana Award recipients from the UK and all over the globe who are changemakers for their generation. We know by receiving this honour they will inspire more young people to get involved in their communities and begin their own journey as active citizens. For over 20 years The Diana Award has valued and invested in young people encouraging them to continue to make positive change in their communities and lives of others." Nominations are put forward by adults who know the young people in a professional capacity and recognised their efforts as a positive contribution to society.
Through a rigorous nomination process, these nominators had to demonstrate the nominee's impact in five key areas -- Vision, Social Impact, Inspiring Others, Youth Leadership, and Service Journey. There are 12 Diana Award Judging Panels representing each UK region or nation and a further three panels representing countries outside of the UK. Each panel consists of three judges; one young person, an education or youth work professional, and a business or government representative. The panels have an important main purpose: to determine which nominations from each UK region/nation/country will receive The Diana Award. Nominations are judged using the Criteria Guide and Scoring Guide. Shreenabh has also been honoured with the highest Civilian Honour for Children in India - The Pradhan Mantri Rashtriya Bal Puraskar for his innovative farming techniques. Shreenabh's community service projects 'Oldy Goldy Clubs', 'Save the farms and farmers', 'National e-Waste Awareness Drive', 'Magnum- making maths simple' etc have impacted more than a lakh lives.
Shreenabh was just 11 when he came out with his first book 'Thank You Modiji' based on the Government schemes written in Panchantra story style which was personally appreciated by Prime Minister Narendra Modi himself. Shreenabh regularly wrote articles on myraid topics including Science in Twinkle Star Magazine of 'The Hitavada' and Science Reporter. When Shreenabh attained the age of 13, his second book 'A young explorer's journey of Science' came to light and Dr Harshvardhan sent a letter appreciating his effort of explaining scientific concepts in a simple manner. Shreenabh has published seven research papers in reputed national and international journals. Based on his elaborate work of Science Communication, he was honoured with membership of the World's oldest and biggest Science journalism organisation -- International Science Writers Association in the year 2020.
Shreenabh has also represented India as an ambassador in the World Peace Week in 2019 and has been invited again this year. He has been awarded the fellowship of Kishore Vaigyanik Protsahan Yojana (KVPY) in the year 2020 and 2021. With his innovative projects he has represented team India in the World's largest Science and Innovation Fair ISEF at California in 2020. His incessant work was recognised by the Government of India and he has been bestowed with the Highest Civilian Honour for Children in India - Pradhan Mantri Rashtriya Bal Puraskar 2021. Shreenabh's story is a long one which has a list of over a hundred milestones. He has been transforming the education landscape by various ingenious projects such as Magnum, Epsilon Code, IGMO etc using Artificial Intelligence. Shreenabh's parents Moujesh Agrawal and Tinu Agrawal both too have studious approach and have acquired doctorate.