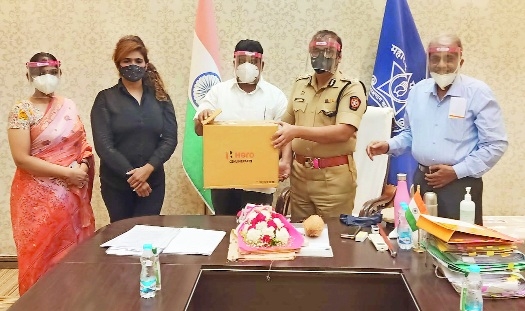 Business Bureau :
Hero MotoCorp, the world's number one two-wheeler manufacturing company since 20 years in a row, through its dealer M/s Aditya Hero donated 200 face shields to the Nagpur Police Department as a part of their corporate social responsibility. The handing over ceremony was held at the Police Gymkhana, Civil Lines on Thursday. The face shields were handed over to the Police Commissioner Amitesh Kumar at the hands of West Nagpur MLA Vikas Thakre in the presence of Dr Prakash Jain of Aditya Auto.
These face shields will be extremely helpful for the frontline warriors of the Police Force who are working tirelessly during this pandemic. Jwala Dhote, President, Urban Cell, NCP and President of Anyaay Nivaran Samiti, took this opportunity to felicitate Amitesh Kumar with a shawl and shreefal in order to commemorate his exemplary services towards the city. Under his leadership and relentless efforts, the police department has ensured that the citizens of Nagpur can sleep peacefully at night and the women of the city can be free and safe. Hero Motocorp has been doing its bit pan India, and also in Nagpur, in the fight towards COVID-19 ever since the pandemic began.
They have donated N95 facemasks, mobike ambulances, sanitizers, PPE kits etc. The Hero family culture is to give back to the society especially at this turbulent time of need and hence Aditya Auto Agencies appeals to the frontline corona warriors of any Government departments to call on mob. no. 7827884771 for any help to fight this pandemic or email at:
[email protected]
One may also visit M/s Aditya Auto Agencies, 40-41 Yeshwant Stadium, Nagpur.