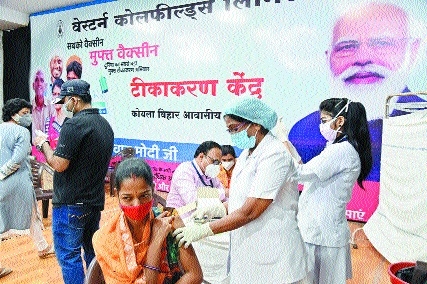 COVID-19 vaccination drive underway at WCL Headquarters in Civil Lines.
Business Bureau :
While the Government is leaving no stone unturned to inoculate the country's huge population against the novel coronavirus at the earliest possible, many other agencies are also contributing to accomplish the Herculean task. A large number of the NGOs, private institutions and even public sector undertakings (PSUs) can be seen actively supporting the cause. Some of them are engaged in creating awareness among the masses, while many other agencies are assisting the Government machinery and ensuring successful vaccination drives. City-based PSU Western Coalfields Limited (WCL) is no exception.
The organisation, having a sizable presence in this part of the country, is taking all possible steps to administer jabs not only to its staff members but the community at large. As a part of its corporate social responsibility (CSR) drive, the 'Miniratna Company' is conducting mega camps to immunise people. Till date WCL, the largest PSUs of the Vidarbha region, has managed to inoculate more than 41,000 jabs to its coal workers, officers, contractual workers and villagers staying in the adjoining areas. The Coal India Limited subsidiary company has been implementing the drives at eleven vaccination centres in seven WCL areas, one at WCL Headquarters and three camps in the remaining three areas. These centres are operating in Vidarbha and parts of Madhya Pradesh. Interestingly, the PSU is undertaking vaccination drives in a very systematic way setting an example for others.
In WCL Headquarters, it is conducting the drive in an air conditioned auditorium where participants follow social distancing and all other safety norms. The company also offers free snacks with mineral water bottles to all those who take the jab. Besides an elaborate arrangement for the participants to take rest after taking the jab, comfortable space is also being provided to those waiting for their turn. A team of the doctors and paramedical staff of the company is executing the drive treating WCL staff members and outsiders at par. Elaborating on the issue, Dr Sujata Sirmukaddam, Chief of Medical Services - WCL, said the company started COVID-19 vaccination drives in February 2021 for staff members as well as for others. "We are conducting the vaccination drive under the encouraging guidance of Chairman and Managing Director of WCL Manoj Kumar and Director (Personnel) Dr Sanjay Kumar. We are extremely grateful to the district authorities for giving us the opportunity to serve the masses," she added.