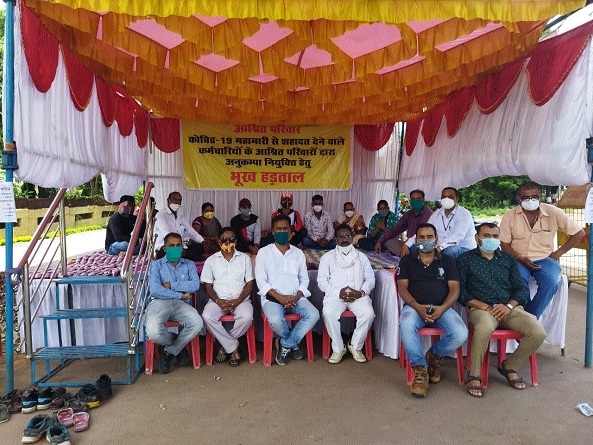 BWU office-bearers interacting with striking dependents of BSP workers died of COVID.
Staff Reporter :
BHILAI,
The office-bearers and members from BSP Workers Union (BWU) personally met the dependents of BSP workers who died due to COVID-19 pandemic, staging gradual hunger strike at Equipment Chowk in Sector-1, Bhilai. The trade union delegation assured the striking dependents of support and pursuing the issue at all levels for them. Ujjwal Dutta, president, BWU informed that while interacting with the trade union leaders the striking dependents of the deceased BSP workers alleged BSP management authorities of apathy as they have hardly ever opted to initiate measures for fulfilling their demands of appointment on compassionate ground.
They said that it is pity on part of the authorities not considering their demands of the dependents of BSP workers who reported on duty during spread of pandemic at peak and died eventually after getting infected with coronavirus. He also informed that some of dependent family members are also seeking final payment but deprived of necessary support from the authorities like single window services at least for the dependents of BSP workers who risked their life and reported on duty in adverse circumstances. Some of the dependents family members also told the trade union leaders that they are running pillar to post for seeking supports under provisions invarious schemes viz EFBS, medical, residential facility, payment of CPF, Gratuity etc.
The dependents of the deceased BSP workers including Yashwant Kumar of Blast Furnace; B Korma Rao of Coke Oven; Rajendra Prasad of Coke Oven; Dayaram of PPC; M Korma Rao of Peronnel; Rajendra Prasad of Borkar of OHP; K Appa Rao of OHP; Surendra Kumar of RED-II and others interacted with trade union leaders and narrated to them their woes. BWU office bearer, Dutta informed that in this regard they have also delegated a memorandum to Vijay Baghel, MP, Durg, for raising this sensitive issue in forthcoming session of parliament. They have also delegated a memorandum to SAIL-Chairman and Union Minister of Steel. The trade union delegation was also comprised of General Secretary, Khoobchand Verma, Deputy General Secretary, Shivbahadur Singh and office bearers and members T Dileshwar Rao, M Vijay Kumar, B Joga Rao, Pradeep Singh, Sandeep Singh, Lumesh Kumar and others.