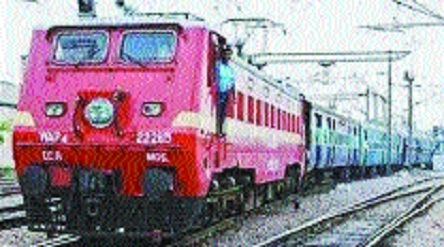 By Sagar Mohod :
Adopting the policy of outsourcing, Indian Railways aimed to pare down its overhead costs, yet in management of Running Rooms at Central Railway's Nagpur Division, the caretakers are still being deputed on jobs. Ironically, private contractor are managing the Running Rooms, four of them in division, at Ballarshah, Nagpur, Amla and Majri. So questions are being raised in division as to how Caretakers are still on rolls when the work is outsourced by Railways. Running Staff management comes under Traction Rolling Operations (TRO) and everywhere Railways is going to cost cutting and start is made with surrendering Group D posts by opting for private management of jobs. As per the accord, the private parties that won the right to manage the Running Rooms have to depute its own manpower for providing all facilities, including food to the Loco Pilots, Assistant Loco Pilots and Guards. The Caretaker deployed by contractor is designated as Campus Boss, means to look after all aspects related to Running Room and resolve any problems of Running Staff at the base. Contractor is mandated to provide medical care if required, keep rooms neat and clean, manage duty hours of staff- effectively, means ensuring their sleep cycle and waking them up in time for their duty, besides providing the hygienic food.
Railways used to depute three to four of its manpower, identified as Caretakers, for all these duties at the Running Room. Of the four, running room at Ballarshah is biggest having holding capacity of nearly 100 personnel and the contractor won right to manage it for a period of five years for Rs five crore, it is learnt. Over the time it was expected that Caretakers, they are railway employees would be redeployed in other sections now that their services are outsourced. However, as per the record with The Hitavada, the Caretakers are continuing with their duties at the Running Rooms, four at Ballarshah, the post at Nagpur, Amla and Majri is vacant as here sources said work is being managed through new recruits in Running Staff, Assistant Loco Pilots and through Office Superintendent (OS) at Amla. The railway staff is regularly reporting to duties at Running Rooms and also signing on the muster and continuing to draw their salaries.
Each of the Caretaker salaries is minimum of Rs. 40,000 and maximum upto Rs. 60,000. In short, TRO it seems is engaging in duplicity of work by keeping its staff and also outsourcing the work to the private contractor. When asked about the contradiction, division's PRO, S G Rao, Assistant Commercial Manager (ACM), citing talks with TRO said though management of Running Room is outsourced no doubt, but one Caretaker is still deployed for supervision. But after going through the muster one finds that not one but three Caretakers were on duty at Running Rooms which seems out of place and flies in face of administration's claim.
The clarification from TRO also seems quite awkward given the fact that supervision falls in domain of Inspectors while Caretaker are drawn mostly from Trackman, most of them medically decategorised. Also similarly, the Loco Inspector is deputed to keep tab on the situation at the Running Room and go through the Complaint Book that is kept for Staff to mention or list their problems or issues about any deficiency in services. Also, Chief Crew Controller (CCC) to liaison with other branches of Railways in case of problem with infrastructure at Running Room and sort them out.