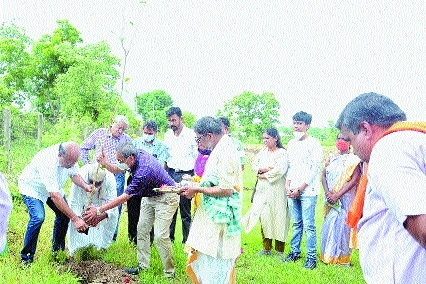 The sapling plantation activity is under way at Pendhari.
Principal Correspondent :
The Sabha also creates water canals
On one hand, the trees are being cut in the name of development while on the other, a group of large number of people have coming forward to save the trees and to create greenery. In one such attempt Gorakshan Sabha of Nagpur has planted 1,000 saplings at village Pendhari in Umred taluka recently. The Sabha did not merely planted saplings, but it made all arrangements so that all trees would grow fully. The Sabha has been endeavoring to make the village completely green for which it has created three water canals with a thought that not a single tree should die for want of water. The Gorakshan Sabha had recently conducted a huge tree plantation activity where 1,000 saplings were planted, and the plantation event was witnessed by almost all office-bearers who attended the event personally. Pendhari village is situated at Hudkeshwar Road and comes under Umrer taluka.
President of Gorakshan Sabha Nagpur Satish Salpekar, Vice-President Prakash Dixit, Secretary of the Society Shirish Bhagat and Treasurer of the Society Harshal Arvikar along with others attended the activity. Gorakshan Sabha works in the field of cows where it not only looks after the growth of cows but takes care of cow-related aspects. The motto behind growing trees has connection with cows too. It is obvious that cows like to eat green grass or leaves, the quantity of which is dwindling. Taking serious cognizance of this aspect, Gorakshan Sabha came forward and initiated the tree plantation. Nagpur Gorakshan Sabha has been doing remarkable work in the field of Gorakshan and Gosanvardhan for the last two centuries. This organisation is famous for implementing social commitment activities from time to time. In Nagpur city as well as in Central India, many awareness drives and activities are being carried out on the subject of Gosa literacy and environment. In general, cow protection and cow rearing is not just an activity but now the citizens of Nagpur feel that it has become a movement.
The Sabha did not keep the tree plantation activity merely around Pendhari. It has involved the nearby villages like Chimnazari and Champa. Sarpanchs of Pandhari Smt Chhapekar, Deputy Sarpanch Surekha Raut, Sarpanch of Champa Atish Pawar were specially invited and the samplings plantation was done at their hands. The Sabha was working on developing the three water canals in the village area for the last three months. These canals will cater to the need of the trees. At the banks of these canals the Bamboo trees were planted. This has been done with a thought that no animal should enter and devastate the trees. Joint Secretary Pushkar Buty, Prasanna Paturkar, Dilip Mase, Sandeep Shirkhedkar, Makrand Pandharipande, Devendra Mate, Ram Mate Shrikant Duchakke Prashant Kathale, Kirat Mundle all attended the function and provided several suggestions.