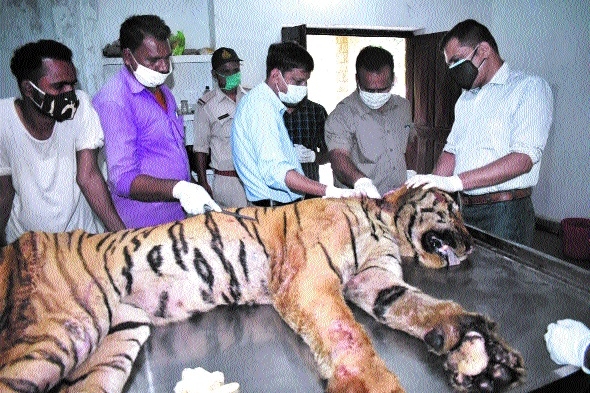 Post-mortem being performed on tiger at Van Vihar.
Staff Reporter :
The 17-year-old injured tiger (T-11) brought to Van Vihar National Park from Pench Tiger Reserve on July 13 has died on Tuesday. The tiger was brought to the park for treatment after having several injuries on his neck, back and other body parts. The park officials informed that the cat had received injury after fighting with another tiger. Dr Atul Gupta and his team were continuously treating the tiger with 24X7 monitoring. Even after all possible efforts, the tiger could not survive and died at 3:30 am on Tuesday. Incident took place near Awarghani village under Khawasa forest circle. Patrolling staff informed to the Forest Department that an injured tiger was spotted during night and he was walking with bent neck.
Next day, forest team called staff and elephants searched the tiger. Later, tiger was rescued with the help of elephants. Ashok Jain, Deputy Director of Van Vihar, said, "the tiger was being treated and monitored continuously but he could not survive due to injuries on his body. He received several injury on his body after being involved in fight with other cat." He further informed that post-mortem has been conducted and last right has been performed as per the NTCA guidelines.