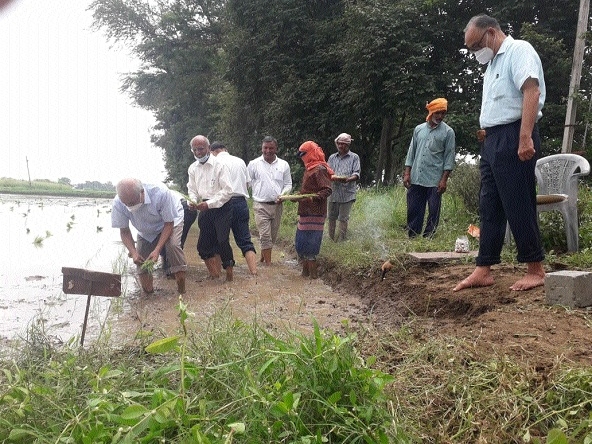 Vice-Chancellor, Dr Bisen transplanting paddy sampling at a farm.
Staff Reporter :
After performing rituals, Vice-Chancellor of Jawaharlal Nehru Agriculture University (JNAU), Dr Pradeep Kumar Bisen himself visited the farm at the National Seed Project Area and transplanted hybrid variety of paddy called 'Kranti' on Tuesday. This variety of paddy developed by scientists of Agriculture University produces 32 quintals in every acre of land.
Initiating transplanting of paddy during Kharif season, Vice-chancellor, Dr. Bisen has set an inspiring example for others to follow. Other officers who were present on this occasion include Director, Research Services, Dr. JK Koutu, Director Academics, Dr. Abhishek Shukla, Director Area, Dr. DK Pahalwan, Dr. ML Kewat, Dr. RS Shukla, Dr. Sanjay Singh and others. Director, Research Services, Dr. Koutu and Principal Scientist, Dr. RS Shukla informed that present is the best time to initiate transplanting of paddy saplings during Kharif season. By performing religious rituals before transplanting, Vice-Chancellor, Dr Bisen started transplanting as per Indian tradition.