President of NCP Traders Cell Ahirkar urges Raut to extend business hours of shops in city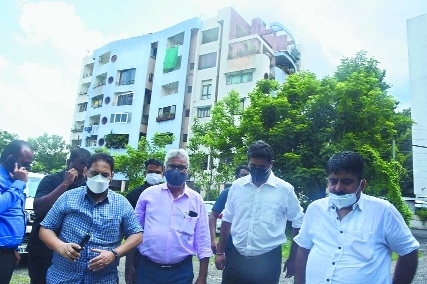 Guardian Minister Nitin Raut with the delegation of traders.
Business Bureau :
A delegation led by Swapnil Ahirkar, President of NCP Traders Cell met Maharashtra Energy Minister and District Guardian Minister Nitin Raut and submitted a memorandum. Ahirkar in the memorandum said, Maharashtra Government on June 7, 2021 had framed various rules for level 1 and level 5. Nagpur was put into level 1. However, the level 3 rules were made applicable to Nagpur and several restrictions were imposed wherein shops and establishments were allowed to operate upto 4 pm.
The ratio of coronavirus cases in the Nagpur has fallen below 1 per cent and there are active patients below 150. However, due to various restrictions, traders are facing problems. For the past one year, due to frequent lockdowns and restrictions, the trade in city and rural areas have came to standstill. The workers employed in the shops have become jobless and are on the verge of starvation. The festive season is commencing from August month.
Traders who had high hopes that there would be good business in the festive season had already kept huge stock. Traders are now under pressure due to permission for the limited business hours. Bar and restaurant business is mainly during evening hours. Due to limited business hours, large number of people who are dependent on it are facing un told hardship. Ahirkar requested Nitin Raut to apply the level 1 rules in the city so that shops will carry out their business upto 8 pm and the time for bar and restaurant should be extended upto 10 pm.