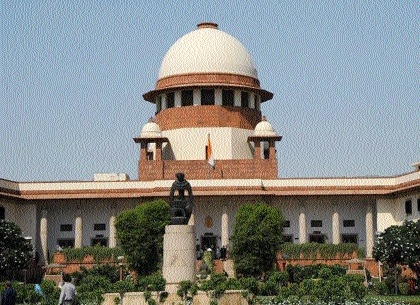 NEW DELHI :
THE Supreme Court on Tuesday termed "wholly uncalled for" the Kerala Government's relaxations for Bakri Eid in areas with a high Covid positivity rate and said giving in to pressure from traders discloses a "sorry state of affairs". Directing the State Government to "heed the Right to Life", the apex court also warned Kerala it will take action if the easing of curbs leads to further spread of the virus and this is brought before it by any person. "To give in to pressure groups (of traders) so that the citizenry of India is laid bare to a nationwide pandemic discloses a sorry state of affairs. Even otherwise, assurances from traders and nothing more do not inspire any confidence in the people of India or this court," a bench of Justices R F Nariman and B R Gavai said.
"We direct the Kerala Government to give heed to Right to Life enshrined under Article 21 of the Constitution," it said. The bench was hearing an application raising the issue of the Bakrid relaxations in Kerala. The apex court had last week taken cognisance on its own of media reports on the Uttar Pradesh Government's decision to allow the Kanwar Yatra amid the COVID pandemic. The apex court referred to a paragraph in the affidavit filed by the Kerala Government and said it disclosed that the State has given in to associations of traders, which made a representation that they have stocked up goods for the purpose of Bakrid. "What is extremely alarming is the fact that in Category D where infection rates are the highest, a full day of relaxation has been granted," it said.
"We state that this affidavit discloses a sorry state of affairs as has been stated above and does not in real manner safeguard the Right to Life and Health guaranteed under Article 21 of the Constitution" it said. "We may also indicate that if as a result of this (relaxations), if any untoward spread of COVID-19 takes place, any member of the public may approach this court after which the court will take action accordingly. The IA is disposed of," the top court said. The bench had on Monday asked the Kerala Government to file its response during the day on the application against the three-day relaxation in COVID restrictions in the State in view of Bakri Eid on Wednesday. In its affidavit filed in the top court, the State has said that curbs and resultant economic slowdown have put the population in a lot of misery.