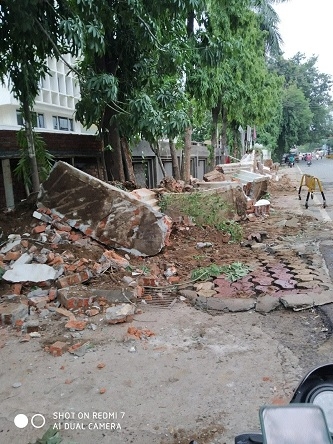 JSCL and JMC removing boundary wall hindering construction of smart roads.
Staff Reporter :
To clear way for construction of smart roads, the Jabalpur Smart City Limited (JSCL) has started removing the permanent structures, which are hindering the construction work. The JSCL, with support of Jabalpur Municipal Corporation (JMC), removed a number of boundary wall and other structures. Senior officials informed that the JSCL under the guidelines of Sandeep G R, Executive Director of JSCL and Municipal Commissioner and CEO Nidhi Singh Rajput is executing Smart Road Phase 1 in Wright Town area.
They said the obstacles coming in the work have been removed with mutual consent for city development. Under the same, boundary wall of Hotel Stya Ashoka and some residences, situated on route to Gaumata Chowk were removed with mutual consent. Likewise, the boundary wall of permanent structures situated on Home Science College-Madan Mahal road were also razed. JMC's Executive Engineer Kamlesh Srivastava and Assistant Engineer Bahuwali Jain informed that the Smart City Limited has been carrying out a number of development work in the city, which will benefit the citizens in coming days. Accordingly, the JSCL with due support of JMC removed the hurdles coming in construction of roads under Smart Road Phase 1. It may be noted that Municipal Commissioner Sandeep G R has recently reviewed the under constructed and proposed infrastructure and development works.
During the review meeting, it was brought to his notice that some boundary walls were hindering construction of roads under Smart Road Phase 1. hence, Sandeep G R had directed the technical officers to remove all obstacles with mutual coordination and agreement and ensure construction of the roads at the earliest.