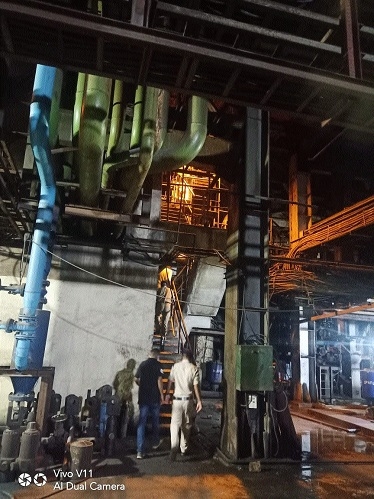 Police team inspecting the spot in SMS-II, BSP.
Staff Reporter :
BHILAI,
BODY of the missing employee was recovered under suspicious circumstances in Steel Melting Shop-II (SMS-II) in Bhilai Steel Plant (BSP) on Wednesday evening. Police are clueless about circumstances in which the plant employee died and also probable cause of death. Police sources informed that at about 4 pm on Wednesday, police recovered the body of missing BSP employee Jagatram Uke, a resident of Camp-I, Bhilai. The body was found in suspicious circumstances in Caster-6 area of SMS-II in BSP. Police recorded unnatural death and are further investigating. Police sent the body for autopsy after preparing an inquest of the incident.
Talking to the newspaper, Suresh Kumar Dhruv, Station House Officer (SHO), Chhaoni Police Station informed that though body was recovered in suspicious circumstances yet cause of death is not apparent and police have recorded the matter as that of unnatural death. There were serious burn injuries on body appearing to be of electrical or steam burns. He also informed that the area where body of Jagatram Uke was found hardly frequented by workers and moreover he was posted at SMS-II, Bhilai far away from the spot. It is assumed that on the day of missing Jagatram Uke met the end, as his body was decomposed considerably. SHO Dhruv also informed that the police are finding answer for queries on priority that why Jagatram Uke entered plant again on Monday at about 4:16 pm when he was on first shift duty and had left the plant at about 11:30 am seeking permission.
Police are also investigating from angle of family dispute, enmity at workplace and any significant history behind his sudden missing and later recovery of his body in suspicious circumstances. It may be recalled that since Monday evening Jagatram Uke was missing and police were tracing his whereabouts. The police concentrated search in BSP after recording evidences of Jagatram Uke entering plant and no witness or evidence regarding his leaving the plant besides his mobile phone was also found switched off after he entered the plant. He entered plant at about 4:16 pm through Main Gate in his car as per an eyewitness and it was also verified through CCTV footages. On this basis police started search and finally traced his car (CG07/BY/4470) which was locked and lying abandoned near SMS-II, BSP on late Tuesday evening. However, nothing unusual recorded in forensic test of car viz criminal acts occurred in car, blood traces or struggle marks. There was also no trace of relishing drinks inside car. The missing BSP employee Jagatram Uke is also a money lender and one K Venkat, the contract worker in the plant was assisting him. It was Venkat who had last seen Uke alive in the plant and afterwards he went missing.