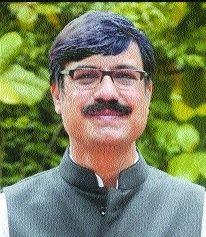 Principal Correspondent :
NIDM, Ministry of Home Affairs, Government of India constituted a seven-member working group at the national level for 'Development and Standardisation of Curriculum on Disaster Risk Reduction Programme for Undergraduate Level'. Naveen Agrawal, Registrar of DRB Sindhu Mahavidyalaya has been nominated as working group member from West India Region University Grants Commission (UGC) also has issued the notification regarding compulsory course implementation on the subject Disaster Management for all students to minimise the risk of disasters, i.e. i) Bomb Threat ii) Earthquake iii) Explosion, iv) Hazardous material spill/release, v) Campus Shooting vi) Terrorist incidence vii) Financial emergency. Hence, there is a need for curriculums that have included elements of disaster risk reduction to build the knowledge, skills and capacity of the young generation.
The members of the said Working Group have been entrusted with the important responsibility of development and standardisation of the compulsory paper/curriculum on Disaster Risk Reduction (DRR) for undergraduate students which will be taught at the undergraduate level in all the streams of higher education. After the zero draft is prepared by the members, it will be sent to various universities and institutes in the country for perusal and feedback. After considering the responses received, the final draft will be sent to the University Grants Commission for approval.
Dr Subhasis Bhadra, Professor and Head, Department of Social Work, Central University of Rajasthan (North Region), Dr Prateesh, Central University of Kerla (South Region), Dr Kiran Jalem, Institute of Rural Development and Panchayati Raj, Hyderabad (South-Central Region), Naveen Maheshkumar Agrawal, Registrar, Dada Ramchand Bakhru Sindhu Mahavidyalaya, Nagpur (West Region), Kosygin Leishangthem, Manipur Technical University (North-East Region), Dr Dharmaveer Singh, Symbiosis Institute of Geoinformatics, Symbiosis International, Pune (West Region), Dr Amit Sinha, Ramswaroop Memorial University, Uttar Pradesh (Central Region) have been included in the said seven-member working group. President of Sindhi Hindi Vidya Samiti H R Bakhru, Chairman Dr Vinki Rughwani, General Secretary Dr I P Keswani, Secretary College Affairs Neeraj Bakhru, Officiating Principal of DRB Sindhu Mahavidyalaya Dr V.M. Pendsey, Vice-Principals Dr S V Tewani, Dr A G Thadani and Manoj Yenprediwar have congratulated Agarwal.