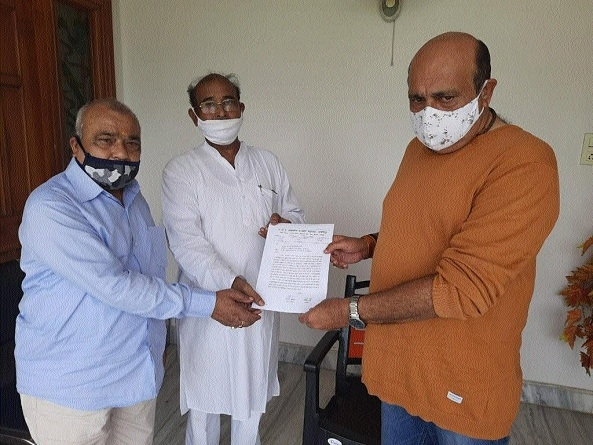 Senior office-bearers of JDA Awasiya Kalyan Mahasangh submitting memorandum to MLA Ashok Rohani.
Staff Reporter :
Senior office-bearers of the JDA Awasiya Kalyan Mahasangh, Jabalpur, on Tuesday, met MLA Ashok Rohani and MLA Vinay Saxena and apprised them of an indifferent attitude of Jabalpur Development Authority (JDA) in redressing grievances. They informed the two senior public representatives that as per the State gazette, the JDA landowners have to pay 1 per cent lease rate on the basis of market value of land. The cess should be taken on the basis of information published in the gazette on September 21, 2010. But the JDA has increased the lease rent to 2 percent of current price of the land.
The increased percentage of lease rent is causing huge burden to land owners. They also demanded that the land owners should be given the rights for division of land amongst family, senior citizens should be given a facility of single window in JDA schemes to avoid inconvenience to them. The Mahasangh members requested the public representatives to take action into the matter of stubborn attitude of JDA. They said after lending patient ear to their problem, both the MLAs have assured them of raising the matter in Legislative Assembly and get resolved their grievances. Amongst those present on the occasion were K L Chopda, Vinod Dubey, Shriram Shukla, Roopkishore Pyasi, R S Pandey and others.