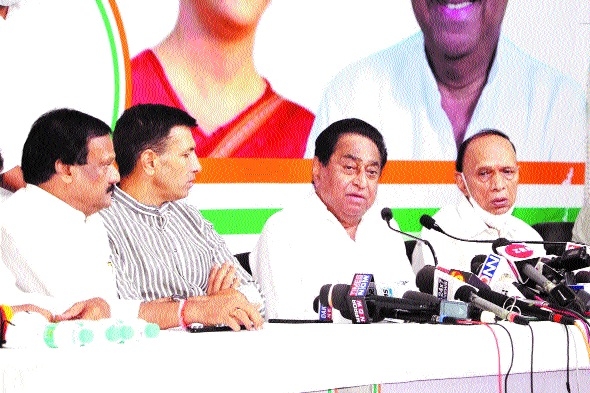 Former Chief Minister Kamal Nath addressing a press conference in Bhopal on Wednesday.
Staff Reporter :
Former Chief Minister Kamal Nath has tried to pass on heat on Centre in the wake of Pegasus spyware case and said that it is the biggest privacy attack. He even demanded that Centre should file an affidavit in Apex Court that it had neither purchased nor took license (of Pegasus). Addressing the press conference in State capital on Wednesday, he also demanded probe into the matter by any sitting Judge of Apex Court. Coming down heavily on Centre, he also pointed out towards the apprehension that spyware may have been used in bringing down Government in Karnataka. Talking about the spyware, he asserted that it snoops on email, chats etc of phone. He also said that if Centre accepts that it had not purchased the spyware then it should give an affidavit in Supreme Court in this regard. According to him, spyware is sold to governments. He alleged that Government had purchased license for snooping. He said that whether it was purchased for national security or for Modi security, why it was purchased.
In Pegasus, everything (on phone) is snooped including e mail, chats, message and all this is only possible when there is permission of Government. He said that Pegasus has been sold to forty five countries so whether it has been also sold to India. Not only Pegasus, some other spywares have been also purchased, he alleged. He said that foreign media has published the fact regarding Pegasus and government can file case against them. If Indian government says that it had not purchased the spyware then who had else had purchased it, its more dangerous thing then?
He demanded probe into matter by SC Judge that also by the consent of opposition parties. He said that many more things will come out in connection with snooping. On upcoming by-elections, he also said that Congress party has done survey of wannabe candidates and meeting will be held shortly to do discussion in this regard. He also stated that petrol rates have gone through the roof. Even the pulses, vegetable oil, egg etc have become a costly affair. Inflation has broken the backbone of every section of society. Middle class of society has gone down financially during corona period. GDP has also gone down.