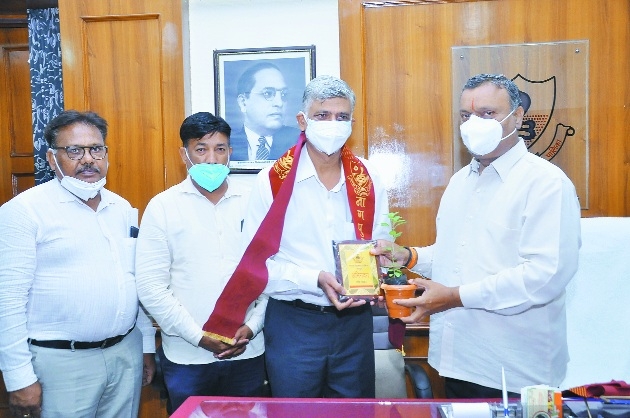 Mangesh Mopkar (2R) being felicitated by Nagpur Mayor Dayashankar Tiwari (R) as Sunil Agrawal (L) and Pramod Tabhane look on.
Principal Correspondent :
Nagpur Mayor Dayashankar Tiwari recently felicitated table tennis umpire Mangesh Mopkar who will be officiating at the Tokyo Olympics. The Games begin from July 23. Mopkar is the only umpire from India to officiate in the quadrennial Games. He will be leaving for Japan on Thursday. Mayor Tiwari said it is a very proud moment for entire city as well as country that Mopkar has been selected to officiate in the Games. Mopkar was feted with a sapling and a shawl. A retired employee of Bank of India, 60-year-old Mopkar is associated with table tennis for the past 40 years. He followed his father Avinash Mopkar's footsteps who was also a table tennis umpire.
In 1992, Mopkar officiated for the first time at Nationals in New Delhi. He cleared the international umpire's examination in 1996 held at England and then cleared the Blue Batch Examination at Indore. He has a vast experience of umpiring and has officiated at China, Hong Kong, England, Korea, Taiwan and Japan. On the occasion NMC Sports Committee Chairman Pramod Tabhane, corporator Sunil Argawal, NMC Sports Officer Piyush Ambulkar and others were also present.