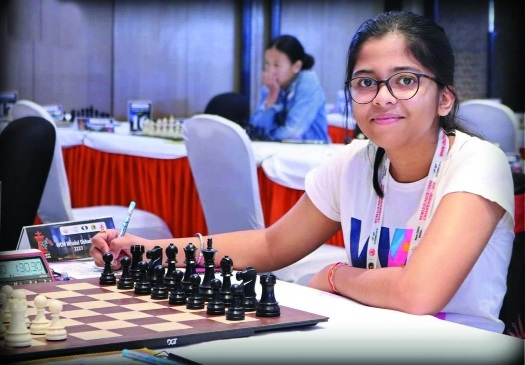 Principal Correspondent :
MRUDUL Dehankar responded well to her top billing as she clinched the Maharashtra State Online Senior Women Chess Championship on Wednesday. The championship is being organised by Maharashtra Chess Association. Seventeen-year-old Mrudul garnered 8.5 points from possible nine to claim the title in the senior women's category. Aurangabad's Rutuja Bakshi finished second with 7.5 points and Jalgaon's Bhagyashree Patil ended third garnering seven points. The top seed player from Nagpur Mrudul kept her slate clean as she registered eight wins and a draw to wrest the title and book a place in the Maharashtra team.
Another Nagpur girl Shrishti Pandey, who was seeded fourth in the online competition, finished fifth. Eight-year-old Vedika Pal finished a distant 35th. On her way to clinching the title, Mrudul started with win over Sonam Thakur of Pune. She then defended her black pieces well against Kirti Patel to move up. Another win over Nasik's Dhanashree Rathi extended her winning run. Mrudul played out a draw with city-mate Shrishti but from there on there was no looking back for the talented player. She registered three wins with white pieces against Jalgaon's Bhagyashree, Mumbai's Vrushali Deodhar and Aurangabad's Rutuja. Mrudul inched closer to the title with a win over Vishwa Shah in the eighth round and then sealed the deal with another superb win over Sakshi Chitlange in the ninth and final round. For her title winning performance Mrudul received a cash purse of Rs 10,000.