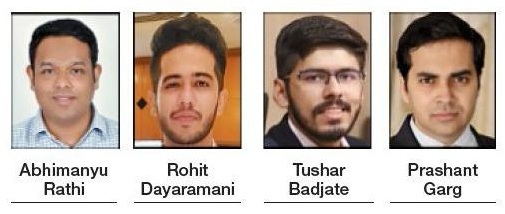 Business Bureau :
Expert panel suggest traders and businessmen to have good track records for fruitful negotiations with bankers
HAVING fundamentals in place and maintaining a good track record is what traders and businessmen need for better banking benefits said experts during the panel discussion recently organised by Vidarbha Management Association (VMA) under 'Wisdom Hour'. A team of dynamic panellist comprising of Abhimanyu Rathi from HDFC Bank, Rohit Dayaramani from ICICI Bank, Prashant Garg from Diffusion Engineers Ltd and Tushar Badjate from Badjate Stocks and Shares Pvt Ltd discussed upon various crucial issues related to banking under the umbrella topic named 'Banking on Banks'. The way bank is important to individuals for saving and deposits etc., it is equally important for domestic and foreign traders and its smooth financial convolutions. Banks play a major role in ease of trade. It channelises the entire process of trade and forms a system.
Thus, it becomes important for traders to keep a clean record, maintain documents and have clear objectives to make banking beneficial, were suggestions put forward by panellists. It was unanimously agreed by panel that banks have formalised the way to measure success and credibility of traders and organisations. This formal way is transparent and trust worthy. It helps understand the financial credibility of firms/ organisations/ industries etc. It was suggested to have more bankers in touch and maintain a higher buffer. Ways of successful negotiations with banks were also discussed. The panel also highlighted that technology has changed banking entirely. Seamless RTGS 24x7 facility, easy sanctions, online proof submission like know your customer (KYC) and other details have reduced the time of otherwise tedious process.
While discussing lower interest rate, panel said that interest rates with increase with opening of markets. In case of Non-Performing Assets (NPAs), it has been seen that banks are keeping a close check on such entities. Asset Under Watch (AUW) and Early Morning Signal (EMS) are the things that banks are following, added the panellist. Apart from this, VMA had recently conducted workshop on Google Tools for its members wherein guidance of faculty member Rajesh Jindal was received. The workshop got huge response and attendees were benefited at large . Vidarbha Management Association is based at Nagpur and meets every Sunday at 10.30 am. VMA is dedicated to impart learning's related to business management and leadership to its member. Vidarbha Management Association is a non-profit organisation and is currently in its 17th year of successful operations.